Local mayors pleased MSI funding still in budget
Posted on April 3, 2018 by 40 Mile Commentator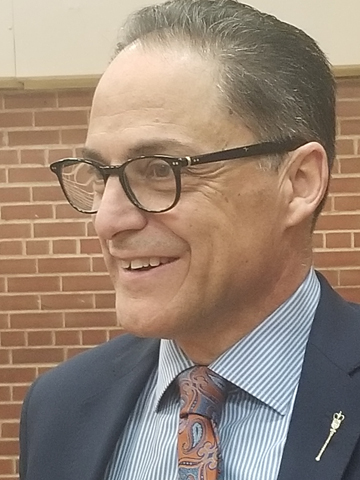 Alberta Finance Minister Joe Ceci
Justin Seward
Commentator/Courier
Local politicians and the finance minister weighed in on what the provincial budget, unveiled on March 22, means for the rural municipalities.
"There wasn't anything astounding in this budget other then the debt is still rising and that's the biggest thing we're not happy about," said Bow Island Mayor Gordon Reynolds.
"I believe the MSI (Municipal Sustainability Initative) has been left in place and am very happy they're going to replace MSI with a predictable program, which is something we've been advocating for many years."
Alberta Finance Minister Joe Ceci said the government plans on replacing MSI with a different program that serves the same purposes.
"In the budget, it's very clear that we're continuing MSI until it sunsets in 2021," he said.
"We will have a new funding arrangement in place for municipalities prior to its extinguishing."
Reynolds added that the town relies on MSI for capital projects which is in a committed agreement until 2021-2022.
Redcliff Mayor Dwight Kilpatrick looked at what the town was getting for MSI and other more minor items that don't have a significant impact on the town.
He said he got a bit of the preview of the budget at a conference in Edmonton the week prior.
"A lot of the ministers that were there alluded to the fact that the budget would be very constrained and new spending and status quo on the rest," he said.
"The hardest part would be if we had some capital projects that could be eligible for funding, (but) with the budget set the way it is, we wouldn't even get in. The list is basically growing right now."
Those projects would include the town's sewer infrastructure.
The provincial deficit for this year has reached $8.8 billion, while the debt is at $54 billion and growing.
"I have to say that since 2015, Alberta has been in a downturn and you have to recognize that," said Kilpatrick.
"We have to try and realize the constraints here too.
"Our water (and) our utilities went up $10 a month and people are voicing their concern.
"We're just trying to run the status quo too."
Ceci said that rural crime was addressed in the budget, with $10 million for a number of initiatives that would help find, track and prosecute criminals, which was announced on March 9.
The budget has other components that address rural needs, added Ceci.
"Diversification of our agribusinesses is one that we put a lot of time and energy into. We want to see Alberta have a more stable revenue stream than being reliant on the oil and gas sector entirely and the vagaries of the world oil prices. That affects many rural communities," said Ceci.