County will finalize repeal of the Fire Service Board at a future meeting
Posted on April 11, 2018 by 40 Mile Commentator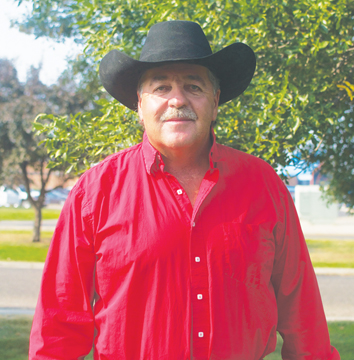 File photo Cypress County Coun. Shane Hok
By Justin Seward
Commentator/Courier
Coun. Shane Hok moved first reading, Coun. Michelle McKenzie moved second reading, while Coun. Dan Hamilton moved to have unanimous consent for third reading, which was defeated, for Bylaw 2016/15:Repeal of the Fire Service Board at Cypress County council's April 3 regular meeting.
The decision came after council requested at the March 6 meeting to draft a bylaw to repeal Bylaw 2016/15.
After a February meeting there was an agenda of light governance functions and with the approval of FMP (Fire Management Plan), the Fire Service Board needed to repealed.
Third reading will come back to council at a future meeting.
Fire guardian appointment
County peace officer, Anna Mast was appointed as a fire guardian as moved by Coun. Alf Belyea and approved by council. It was at the March 6 meeting the fire guardians were appointed, but the resolution was for Mast to have solely administrative duties only. However, with her being the peace officer, it was suitable for her to do both duties.
Library board appointment
Coun. McKenzie moved for Deb Hok to be the new member on the Cypress County Library Board, representing the area served by the Graham
Community Library and council approved.
Irvine Durham St. Water and Sanitary Sewer Project
Coun. Hok moved to direct administration to obtain a change order with Brooks Asphalt and Aggregate to complete the Durham Street Water and Sanitary Sewer Rehabilitation project.
Agricultural Service Board Policy updates
ASB Policy Approval- ASB 1.2 Agricultural Service Board Bursary
Coun. Dustin Vossler moved to ratify Policy ASB 1.2-Agricultural Service Board as presented, which council approved. The ASB (Agriculture Service Board) amended its policy governing the two $1,000 bursaries available to be awarded to students entering into an agricultural or home economics related field. The amendments extended the application deadline and will allow the ASB to carry over funds not used one year into the next year.
ASB Policy approval -ASB 2.3 No-Till Seed Drill
Coun. McKenzie moved for council approval to ratify Policy ASB 2.3- No Till Seed Drill as presented, which was approved unanimously. The amendment was to remove the brand name of previous seed drills and rental rates.
ASB 3.3 Weed Control with the city
McKenzie motioned to have Policy ASB 3.3 Weed Control-City of Medicine Hat ratified as presented and council approved. The county wants to encourage the city to control weeds alongside county roads. A grant is made available to the city to cover some costs for the weeds.
Seed Cleaning Plant Licensing
Council approved the ratification of the licensing as presented. The Weed Control Act makes it the responsibility of a municipal weed inspector to inspect and license seed cleaning plant.
Extension projects
The ASB has amended the policy governing the ASB's commitment to agricultural and environmental extension programs and projects. The policy was amended to allow more flexibility in the type of activities that can take place as well as providing some overall guiding principles to assist staff as they seek out relevant opportunities. Council approved the ratification.
Soil erosion
Council approved to ratify the ASB amendments to Policy ASB 9.0, soil erosion and to rescind Policy 9.3 Soil Erosion control using county equipment.
Soil and Water quality projects
Hok moved to have council ratify the ASB's decision to rescind Policy ASB 9.2. The policy, which is under further review, governs a program that is no longer in place and now supports the Growing Forward 2 program.