Flooding in the county
Posted on April 17, 2018 by 40 Mile Commentator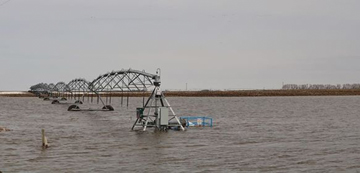 By Jeremy Appel
Commentator/Courier
Thirteen sections of road were closed throughout the County of Forty Mile on April 16, as rain and melted snow contributed to flooding.
Director of emergency management Stewart Payne says the county is working diligently to close off roads that are unsafe.
"We've had roads being overtopped by runoff water throughout the county, so our county crews are out marking them and barricading them if they're more dangerous," he said.
The St. Mary's River Irrigation District notified the county on April 14 that it was having canal issues.
"We scrambled to assist and make sure that our ratepayers that were in potentially hazardous areas were warned," said Payne.
"We've been co-ordinating with that ever since."
As of press time, Payne said only a few yards have been flooded.
"I'm unaware of any homes that are currently damaged, though there are plenty at risk," he said.
"The water flowing has eroded some of the roads, so there is road damage."
There's no need for evacuation at this point, Payne added.
The county's flood mitigation efforts are currently underway.
"Unless you can get 100 per cent of them, they're never sufficient, but they're ongoing," said Payne.
For a full list of road closures in the county, visit http://40mile.ca/residents/news-public-notices/.