Redcliff RCMP makes pair of arrests in thefts and robberies
Posted on April 24, 2018 by 40 Mile Commentator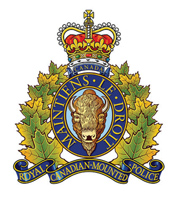 By Justin Seward
Commentator/Courier
Redcliff RCMP did a joint investigation with the Saskatchewan RCMP and the K9 unit to track down two stolen vehicles, other stolen goods and robbery in the Hilda/Schuler area of Cypress County and into Saskatchewan.
Police arrested 34-year-old Tyler Gregory Otterson of Medicine Hat who was charged with one count of robbery, two counts of assault with a weapon, one count of possession of property obtained by crime over $5,000, two counts of failing to comply with a probation order, and one count of failing to comply with a recognizance and one count of flight from a police officer.
"It was a lot of work and a lot of patience by our members to stay out there all day and made sure we catch the bad guy. It was some great work done by our members," said Redcliff RCMP S-Sgt. Sean Maxwell.
"You're doing a team approach to the full investigation. I can't go into specific detail, but just somebody like this in an area we're in, obviously there is lots of back roads and they can travel on. And your goal is to get people to stop and surrender themselves."
He added that Otterson has been in previous discussions before in certain crimes.
When a suspect is on the move such as Otterson, policing public safety and road conditions factor in, said Maxwell.
"We just want the crimes to stop and a safe arrest," he said.
Two saddles, a trailer, two stolen pick-up trucks and a stolen ATV were items seized by police that were from Medicine Hat and the Hilda/Schuler area.
Otterson has been remanded into custody in Medicine Hat Provincial Court until April 24, while the 29-year-old female was charged with one count of possession of stolen property over $5,000, but she was released and to appear in Medicine Hat Court on May 31. The female could not be identified until charges against her have been sworn in.