Vetter records personal bests at Western Canadian Championships
Posted on April 24, 2018 by 40 Mile Commentator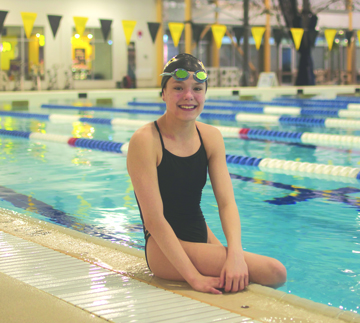 Commentator/Courier File Photo AMAC swimmer Delrae Vetter
By Justin Seward
Commentator/Courier
Alberta Marlin Aquatic Club's Delrae Vetter of Redcliff had encouraging results earlier this month at the Western Canadian Championships in Victoria.
Vetter was one of three Marlins to carve through the lanes on Vancouver Island and saw two personal bests in the 400-metre freestyle with a time of 4:44.88, shaving seven seconds off her previous time. Sh also received a time of 9:43. 30 in the 800 which was 14 seconds better then her previous lap, which earned her a Canadian swim championships time.
"It's been like a nervous (feeling)and there's kids that I know are going to be faster than me and it's kind of like, 'OK I need to swim just as fast as them ," said Vetter.
"But it's just been a really good experience and it's been really fun just to know that I'm just as good as them. I was pretty much at the bottom though the whole time but that didn't stop me from trying my best and I know if I want to be at the top next year in the age group, I have to keep swimming and not give up."
The 13-year-old has been a part of the Marlins' club for six years and the best part of being a member has been getting the opportunity to advance a level up every year.
"I have lots of good friends wanting me to do better and I have head coac Jordan Harper who is always just making sure that I can do it," she said.
Rap music and family support is what motivates her prior to a swim meet because it helps her become less nervous before entering the pool.
Harper considers Vetter to have had a "consistent year," in terms what she has done in practice that has been relayed in swim meets and trusting her technique more.
"The biggest change I've seen her is the mentality and you can really see in the way she races and the way she was able to close out swims," said Harper.
"It's been exciting to watch. I don't see why this summer isn't going to be just as good as all the season has been so far."
He has seen through her development since she was nine years old. He said she has been a good example of what hard work and patience can do.
"She just sets goals and she's very focused on those goals," she said.
"I said this in another interview about her, 'she's just a little bit weird.' I think that weirdness kind of puts her in a light- hearted position. There's the balance of calming nerves that pushes her over the edge."
She will look to work on her stroke before heading off to nationals in Winnipeg in July.