Daffodil project site named in Len Mitzel's memory
Posted on May 8, 2018 by 40 Mile Commentator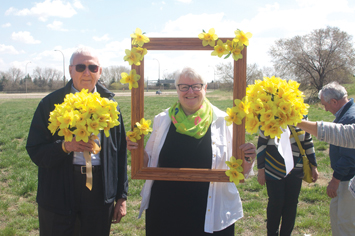 Dr. Ken Sauer and Adair Prouty, donor of 20,000 bulbs to the Daffodil Project, at the newly-named Len Mitzel Meadow on May 2.
The Daffodil Project's Shepherd planting site had been renamed Len Mitzel Meadow in a special ceremony on May 2, after the former Cypress-Medicine Hat MLA and County of Forty Mile Reeve died of cancer in 2017.
Adair Prouty was the donor of 20,000 bulbs to the project and with that was able to name a site and did so in honour of Mitzel because she worked for him for eight years as a constituent assistant, and wanting to something in memory of him in Medicine Hat.
She said the site was named after Mitzel because of his route home from his constituency office on Trans Canada Way.
"He'd turn left on to Trans- Canada Way and turned left at the lights here (Southridge over pass) and go out to Township Road 120 on his way home to Etzikom ," she said.
"I thought 'this is a perfect place to have them planted.' That's why it's here. He worked so hard for his constituents and was always trying to make things better and always had a vision for things."
Project chair, Gillian Slade, read out a response from Elvira Schmid, who works in economic development for the Government of Alberta,
"Len was a visionary," said Schmid.
"He saw value in collaboration long before others. He brought mayors and reeves of southeast Alberta together so they could help each other be better leaders and solve common problems. He understood that all communities were stronger together. Len was a part t of the group that met in the Foremost restaurant to consider how we might encourage communities to work together on economic development."
Medicine Hat Mayor Ted Clugston talked about the daffodils being symbolic of spring time and new life coming back.
"His memory will live on spring after spring, after spring," said Clugston.
"The Gentle Giant. He was a very large man and you might intimidate people with that presence but he never used that against anybody. One of my fondest memories is actually when we were over in the field just down the road begging for an overpass over that Trans Canada Highway and to Len's credit, he pushed that through the province and positive infrastructure for the city."
There will be 10,000 bulbs planted this fall and 10,000 in the fall of 2019.
The project's goal is to see a million bulbs planted over a 10 kilometre stretch between Redcliff and Dunmore by 2025.