Local municipalities included in foundation expansion
Posted on May 8, 2018 by 40 Mile Commentator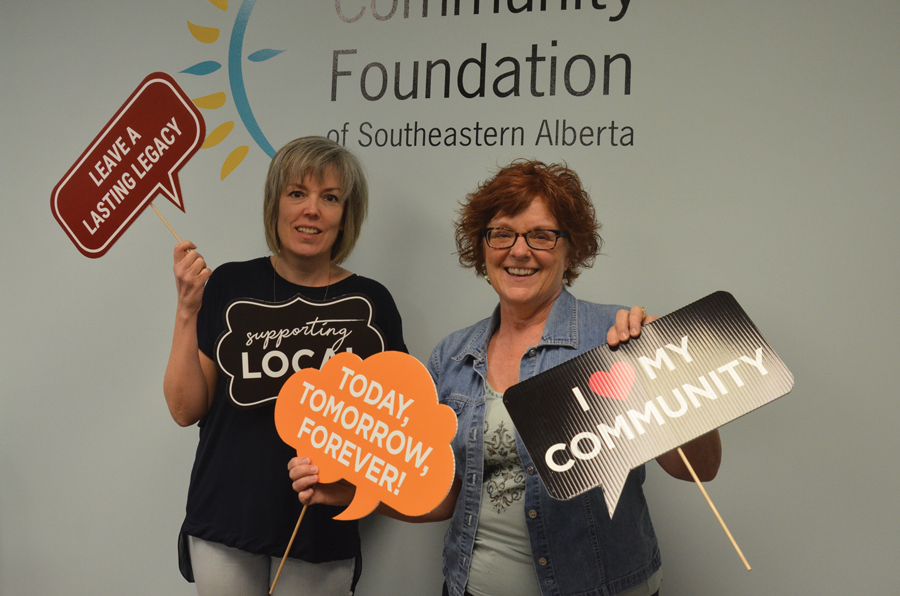 Southern Alberta Newspapers Group photo by Mo CRANKER Community Foundation of Southeast Alberta executive director Chris Christie and project consultant Marlene Watson stand in the Community Foundation office.
Justin Seward
Commentator/Courier
The Community Foundations of Southeastern Alberta are potentially expanding to more rural communities with feasibility studies commencing to further enhance the foundation's capacity.
The Town of Bow Island and County of Forty Mile, as well as Cypress County and Redcliff are included on the foundation's list in the study to create their own endowment funds.
"We want to see if there is an appetite in our more rural areas to establish a local community fund that would be managed by a committee from the community," said Chris Christie, executive director for community foundations.
"They would identify the priorities of the issues or the need in each of their areas and then that committee would decide what registered charities would get the grant."
It was important for the Community Foundations of Southeastern Alberta to stay true to their name when reaching out to the rural communities because the goals and priorities do not apply to just Medicine Hat.
"We want to bred what a community foundation does, but with local input and decision making," said Christie.
"Because right now we give out grants and we have rural charities apply for money but the decisions are made in Medicine Hat. If the County of Forty Mile has their own endowment fund then they would put proposals and could say 'we're looking at funding for these three target areas,' to make the communities more vibrant and healthy."
The foundation has a $12.5-million endowment, which is invested and put into an income investment, which is distributed in grants to different southeastern Alberta organizations.
Each community will create their own endowment,said Christie. They will be doing the work to meet with donors and to build the rural communities.
A survey is being done in the communities to see what the issues need to be addressed.