Forty Mile seeding season in full effect
Posted on May 15, 2018 by 40 Mile Commentator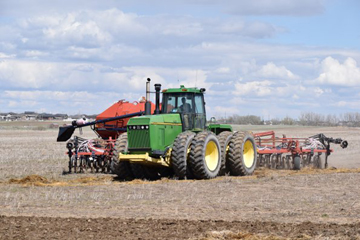 Southern Alberta Newspapers file photo After a long, cold winter, seeding season is in full effect in the County of Forty Mile.
By Jeremy Appel
Commentator/Courier
Seeding season is "in full swing," according to County of Forty Mile agriculture supervisor Dave Matz.
"Seeding is well underway," said Matz. "Almost everybody has started seeding now."
Most farmers began seeding last week, but some had to double task due to the recent flooding in Forty Mile.
"There's a few guys still pumping out sloughs and seeding at the same time," he said.
Matz says it's "much too early to tell" how this year's yields will look.
"We'll have to wait and see if there are some timely rains coming up in the next month," Matz said.
"The dryland would need some more rain coming here in the next month to have some good yields."
Although the particularly cold winter in southern Alberta won't have an impact on the yields themselves, Matz says it will influence the harvest's timing.
"Because it's a late seeding this year, it's going to be a fairly late harvest," he said.
"Last year, harvest was very early in the beginning of August and this year we'll be looking at … more of a September harvest for the majority of crops.
"It's getting back to what it used to be like. We used to do lots of later harvests and late springs. It's just been the past few years that the weather's been good and they've been getting in early."
According to the soil moisture report from Alberta Agriculture and Forestry, snow took longer to melt than usual this year, due to an unusually cold winter in the county.
"For southern Alberta, the lingering snows were very unusual," reads the report.
"But this was a result of cooler than normal temperatures that arrived in late January and persisted until mid-April. In contrast, most years will experience periodic warm episodes during the winter, with melt episodes significantly reducing the spring snowpacks, ahead of the final melt.
"This simply did not happen this year and a sudden rise in temperatures in late April resulted in a rapid melt, leading to overland flooding in many locals."
Matz said the county will have a clearer picture of the harvest's quality in the next couple months.