Redcliff-raised student chosen for MLA for a Day
Posted on May 15, 2018 by 40 Mile Commentator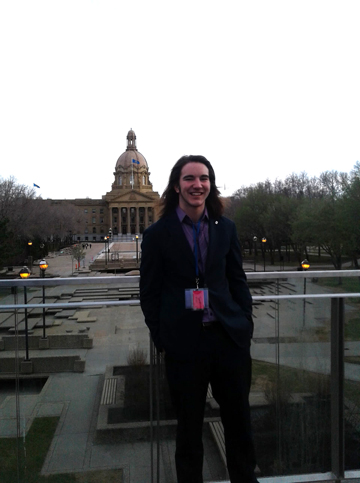 Photo submitted by Brody Wyatt Grade 12 Crescent Heights High School student Brody Wyatt stands in Edmonton with the provincial legislature in the background. Wyatt spent three days in the capital as part of the Alberta-wide MLA for a Day program.
By Jeremy Appel
Commentator/Courier
Grade 12 Crescent Heights student Brody Wyatt had the unique opportunity to shadow Cypress-Medicine Hat MLA Drew Barnes and attend the provincial legislature as part of the province-wide MLA for a Day program.
Wyatt, who's originally from Redcliff and is active in conservative politics, says he was recommended for the program by Michaela Glasgo, who's running for the UCP nomination in Brooks-Medicine Hat.
The name of the program is a bit of a misnomer, as it took place from Sunday to Tuesday.
"MLA for a Day is actually MLA for three days," said Wyatt, laughing.
The program took 87 students from 65 constituencies to Edmonton, where they get to tour their MLA's legislative office, eat dinner with all the MLAs, listen to guest speakers and have a debate in the legislature.
"We really just learned what it was like to be an MLA, what you do in the debates, how the opposition works, how the government works and that was a good time," Wyatt said. "It was a very educational experience."
For the in-legislature portion, organizers created a mock bill for the students to debate — Bill 101, which would impose a levy on automated vehicles.
Wyatt said this was a particularly interesting experience because, although he would personally oppose such a bill, he was selected to argue in support of it.
"The program chose what side you had to be on and, unfortunately for me, I had to be on the government's side," he said.
"Most of the kids there were conservatives, so they had to choose for us."
Wyatt said he was taken aback by the beauty of the legislature building, as well as the raucous tone of debate among MLAs.
"To be honest, I'd never been there," he said.
"We got to watch an actual debate between the current government and the current opposition. It was pretty interesting to see how actually brutal it can get between the government and the opposition."
Speaker Robert Wanner, who's also the MLA for Medicine Hat, sat in on the students' debate and congratulated them on their comparatively civil tone.
"Mr. Speaker had commented on how much more respectful we are to each other than the actual governments and opposition are to each other, so I thought that was pretty funny," said Wyatt.
As for the future, he's going to Medicine Hat College next year where he plans to take a few political science courses, while volunteering with Barnes, whom he describes as a "role model" and "mentor."
Alberta politicos may want to keep an eye out for Wyatt.
"I am definitely interested in pursuing politics," he said.