Family-oriented sport sparking growing interest in Bow Island
Posted on May 22, 2018 by 40 Mile Commentator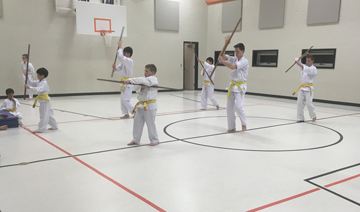 White Dragon Karate has seen increased interest since starting in Bow Island in 2017.
By Justin Seward
Commentator/Courier
White Dragon Karate has been making its home in Redcliff for six years teaching kids self defenses classes.
Founders Tamara and instructor Shawn Harris were encouraged to start up in Bow Island by Stretch Fitness Centre's Jake and Lisa Neustaeter more than a year ago because it would add to the list of amenities for youth in the community.
Classes initially started at the fitness centre before moving over to the school.
"We figured that the first year was going to be a bit slow," said Tamara.
"But we stayed between 16 and 20 students. It's not too bad. I think the problem is that they figure they have to go to Fridays and Sundays. And actually they have the option of doing two Friday Classes, a Friday and Sunday, or can do all three.
"I know a few people would like us to open up on different days but the problem with that is we're open in Redcliff Sunday through Thursday."
The karate club has been able to stay open in Bow Island because 12 or more students have been coming to the classes to make the trip worthwhile.
"Patience," Tamara said of the learning process of keeping the club in Bow Island.
"We try to keep things as family oriented as possible. There's not very many things around anymore that are family oriented."
Students ages four to 16 learn self-defence, patience, confidence and physical education, while making new friends and connecting more with their families.
"It's always good to know how to get out of a hold if someone tries to come up behind you and grab you and throw you in a car," she said.
"We want to make sure they know different ways of getting out of techniques, so if it ever does happen, they have a chance."
Junior black belt participants help out with Friday and Sunday classes in Bow Island.
The club hosted a10x6 karate dojo tournament earlier this month, while two out of town tournaments are attended each year.
Tamara is hoping to see more interest in the town as the classes can hold up to 30 students at a time.
Redcliff classes currently have 78 students enrolled.
Bow Island classes will be closed in July and August and will be re-open in September, while the Redcliff classes will just be closed for August.
More information is available by calling Tamara at (403) 878-6381.