All Above Me set to rock Gershaw
Posted on May 29, 2018 by 40 Mile Commentator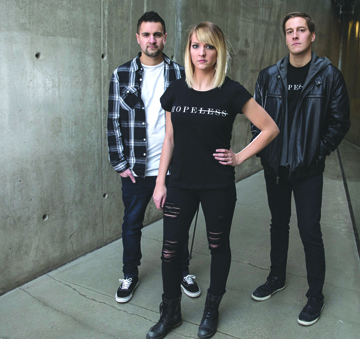 Submitted photo Calgary-based Christian Rock trio All Above Me is playing Senator Gershaw School in June. Guiller Contreras, Britt Harris and Timothy Wikkerink make up the band.
By Justin Seward
Commentator/Courier
All Above Me is a Calgary-based Christian Rock Band that will be making their second stop in less than a year to Bow Island on June 9 at Senator Gershaw School.
Band members include vocalist Britt Harris, guitarist Guiller Contreras and Bow Island's own Timothy Wikkerink on the drums.
Wikkerink began banging on drums when he was five years old and joined the band when it started in 2015.
"Drums has always been my thing," said Wikkerink.
"I really got into this band called Petra, which is a Christian rock band. I would beat on furniture and my parents put be in lessons when I was five. That was kind of a long journey from there."
Contreras originally formed the band before Harris and Wikkerink's arrivals, reaching out to some music friends of his to find two more members through auditions.
"Even our recording process, we do everything ourselves," said Wikkerink.
"We just rent a bunch of stuff, record, then we send our tracks to a guy in Vancouver, who does all the mixing and mastering for us."
Inspirations for the songs are derived from real life events and stories that people struggle with, including anxiety, depression and suicide.
"For example, one song came out of connection with a company in Winnipeg who helps women get out of the sex trade in India by giving them jobs creating clothing that they designed," he said.
"We wrote a song on human trafficking and the tragedy that it is."
"We love Bow Island and Bow Island usually loves us," he said about coming hoke with the band.
"It might be a great place to do it. Even with this event, trying to get more corporate sponsorships from businesses around here just to help put on the event and make it a community thing. Everyone has been really on board and wanting to help out."
He added that this performance could see up to 100 spectators, while their opening act is a hip-hop artist from Taber.
A silent auction will also be on display with funds going to their ministry and to Europe in October.
Showtime is 7 p.m. on June 9 with admission by donation.