Fire chiefs to be honoured guests at Stampede
Posted on May 29, 2018 by 40 Mile Commentator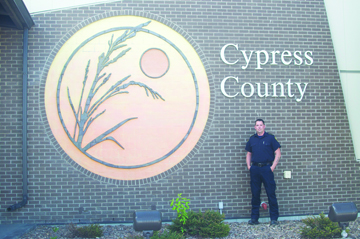 By Justin Seward
Commentator/Courier
Cypress County fire chief Kelly Meyer and City of Medicine Hat fire chief Brian Stauth were announced as the 2018 Medicine Hat Exhibition Honoured Guests on May 24.
The honoured guests are nominated by the guests and dignitaries committee for someone who has made an impact in their community.
"We just felt it was an opportunity for us to honour somebody local and somebody deserving of it," said committee chair Dave Ziegenhagel.
"Kelly has gone through an awful lot of things with that Hilda fire and the one out at the base. Brian has been very busy. They've had an awful lot of fires in town this year with that one up in Southridge where three homes were lost."
"With the tragedy of James Hargrave earlier this year, it brought a little more to local people that anything can happen."
Meyer is not only honoured but is looking forward to bringing his knowledge forward on what Cypress County has to offer.
"It's a great honour," said Meyer.
"It's amazing that they're thinking of us and wanting to do that. It's a great honour having these volunteers who drop whatever they're doing and show up to assist. They're going to be honoured during the ceremony and just recognizing all their hard efforts."
He said the closest experience he had to this honour was when he was nominated by his previous fire chief for a scholarship to go to Indianapolis to learn different training techniques, which he also used as a networking opportunity.
Meyer and Stauth will both have an action-packed day on July 26, beginning with being pulled around in a carriage on the parade route, while in the evening they will officially open stampede weekend. A flag raising at Pioneer Village will end off the festivities.