Foremost CAO receives prestigious award
Posted on May 29, 2018 by 40 Mile Commentator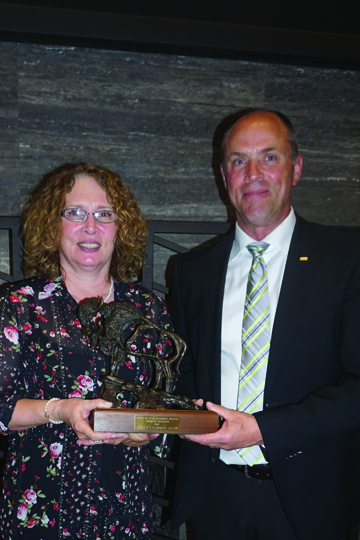 Submitted photo Village of Foremost's municipal administrator Kelly Calhoun received the SLGM award on May 17 in Kananaskis at the Municipal Administration Leadership Workshop from Tim Timmons, chair of SLGM.
By Justin Seward
Commentator/Courier
Longtime Village of Foremost CAO Kelly Calhoun received the prestigious Society of Local Government Managers (SLGM) Award of Excellence for 2018 at the Municipal Administration Leadership Workshop in Kananaskis on May 17.
"Receiving this award is definitely a highlight of my career," said Calhoun, who has been the CAO for the last 32 years.
"I am truly honoured to be recognized by my peers with the support of Village of Foremost council, staff and others who provided letters of support for this award,"
The award started in 2002 with the sponsorship of the legal firm Brownlee Fryett and has been handed out each year to recognize the efforts, contributions and continuing learn process individuals make in their pursuit of excellence and desire to have a positive impact on their community through local government management.
"Local government management has been a challenging and fulfilling career path which has required a variety of skills… ranging from general and financial management, human relations to infrastructure management," said Calhoun.
"I have always believed that lifelong learning is critical to enhance the ability to provide leadership to the communities we serve."
Mayor Ken Kultgen has worked 21 years alongside Calhoun and said that she is well educated to do her job and does it very meticulously, which has made the mayoral job a lot easier.
"We're very pleased that Kelly was recognized by her peers," said Kultgen.
"She's been at it for a long time and has had some amazing accomplishments through her career. I'm not sure if she's really appreciated the way she should be. A lot of people don't know the time and effort she has put in to keep herself up to date on all the new changes."
Colhoun received a keepsake bronze buffalo and $3,000 to spend on continuing education course of study.