Commentator receives Best Front Page honours at AWNA competition
Posted on June 5, 2018 by 40 Mile Commentator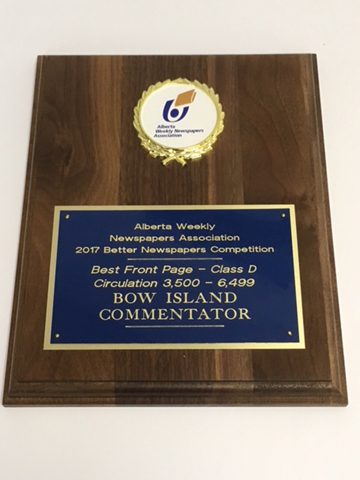 By Justin Seward
Commentator/Courier
The Bow Island Commentator was the recipient of the first place "Best Front Page" award for the Class D category and a circulation of 3,500-6,499 in the Alberta Weekly Newspapers Association (AWNA) General Excellence competition – 2017 Better Newspaper Competition at a June 1 gala in Edmonton.
The May 2 and October 31 front pages were the combined award winner with receiving 120 of 150 points.
Judges looked for relevant stories and articles for the community, leads that were tight and intriguing, with simple and straightforward writing.
Former Commentator editor Jamie Rieger designed both front pages and was humbled by the news.
"It is an honour to be recognized for my work," said Rieger.
"The front page of the newspaper is what the reader sees first, so you want it to be eye catching and look interesting.
"The reader wants to see faces and names they recognize and reader stories with local content. That's Important in a community newspapers.
"In laying out the front pages, I would have a design in mind of how I wanted it to look and usually it worked out that way."
Other criteria included the design being clean and sharp.
Photos, black and white or coloured, were judged on news and featured content, size and quality.
"Receiving this award for Best Front Page is an honour and all our staff at the Commentator, who dedicate themselves to our community newspaper should be proud of the quality newspaper we publish each week," said Commentator publisher Ryan McAdams.
"On behalf of the staff and management at the Commentator, I would like to extend our appreciation to the many readers we have in the community as it is because of you that this is all possible."
Coaldale Sunny South News finished second and the Wainwright Star/Edge finished third in the same category.