County to address Dunmore intersection
Posted on June 13, 2018 by 40 Mile Commentator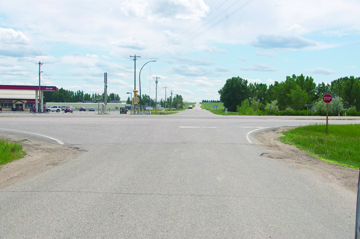 Commentator/Courier File Photo FINALLY STARTING: The Highway 1, Charles Street and Eagle Butte Road intersection is expected to start at the beginning of September.
By Justin Seward
Commentator/Courier
Cypress County council discussed the traffic impact assessment at the Dunmore intersection of Charles Street and the Eagle Butte Road at its June 5 meeting.
Reeve Richard Oster, Deputy Reeve Dan Hamilton, interim CAO Peter Tarnawsky, administration and Alberta Transportation south director Darren Davidson met on May 9 to discuss some of the solutions through the impact assessment.
Solutions included traffic lights and roundabouts being considered at the intersection. The roundabouts was thrown out of the equation due to land needed for construction and performance under the traffic conditions.
Davidson indicated that Alberta Transportation would consider putting traffic light signals in Dunmore since a portion of Highway 1 will eventually be reduced from its freeway status as the highway's future re-alignment with be directed south of the hamlet.
"Everybody hates that intersection and something needs to be done about it," Coun. Michelle McKenzie, who use to drive the Eagle Butte Road as a bus driver.
"You come from the school up on to the highway. It's too dangerous. Every single one of them goes around to Township Road 120."
Coun. Shane Hok agreed with McKenzie and mentioned to council about the recent work done at the Highway 1 near Chestermere and Indus and that Alberta Transportation covered the costs for.
"I don't think we should be paying 50 per cent. Alberta Transportation has when Highway 24 hits Highway 1, that was a problem intersection," he said.
"They paid 100 per cent to make an acceleration there. They also paid for it at Indus where there were numerous accidents and fatalities and that intersection coming from the high school as you enter Highway 1 right before Chestermere."
"I could see us being burnt but not deformed."
According to Davidson in that meeting, an intersection budget is limited and if the county were to submit a letter to the province requesting a cost share and saying they may be losing out on economic activity that the intersection may be looked at earlier.
Hamilton had spoke to Davidson prior to Tuesday's council meeting about the breakdown in cost sharing.
He said that if the county does not contribute 50 per cent to the project then the project will not be a go in 2018.
"The one bonus of doing it this year is we can levy the other stuff that isn't developed yet, so we can get some of our money back on this investment and we can take care of this intersection," said Hamilton.
"We're not setting the precedence by doing the 50 per cent on this one when there is four or five more lanes down there. But as a traffic assessment gets closer and has to be used more, that's when the province will pay for more of it."
Council approved McKenzie motion to receive the Dunmore Future Developments Traffic Impact Assessment as information, and send a letter to Alberta Transportation requesting the province to provide 50 per cent of the costs associated with the installation of traffic installation and roadway improvements at the Intersection of Charles Street, Highway 1 and Eagle Butte Road , with $370,000 funded from the county's accelerated rehab fund, subjected to a potential re-design.
Township Road 120: bicycle ban
Council agreed to send a letter to the Minister of Transportation in support of putting of banning bicycles on the busy rural road after the recent fatality of a 64-year-old male Medicine Hat cyclists on June 3.
Alberta Community Partnership
The county will match the Alberta Community Partnerships grant with the Town of Redcliff and the City of Medicine Hat of $20,000.