Hilda barrel race helps those affected by fire
Posted on June 13, 2018 by 40 Mile Commentator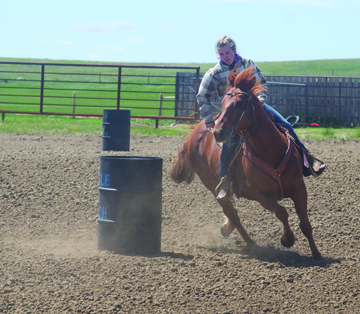 By Justin Seward
Commentator/Courier
Korilye Kundert was in the midst of her last year of studies in business administration at the University of Texas of the Permian Basin when she had heard the news of the Hilda wildfires last October that was a mere two miles from the Double K Hereford Farm.
"It was not real," said Kundert.
"It just didn't feel like something like this could happen. You always here about it but you never think it's going to happen to you. It was scary, a little panicked, because I couldn't get a hold of anybody. Everybody was out fighting fires in the community."
She was unable to make it home until a couple months after the devastating events but it was this past January that she thought of hosting the Hilda Community Fire Relief Benefit Barrel Race fundraiser, which was held on the Kundert farm on June 10.
"I'm just putting it on to help out everyone affected by the fires in October," said Kundert .
"It affected the community of Hilda and the surrounding area. A portion of the added money and all the silent auction money raised will go towards this fund."
"I just feel this is kind of me doing my part," she said. I know it's not going to make a huge difference but it brings the community together and help raised some funds for everyone affected."
Barrel racers of all skill levels competed in the event from Saskatchewan and Alberta.
A total of $5,345.00 was raised towards the Hilda fire relief fund.