Road tune-up needed in Cypress County
Posted on June 13, 2018 by 40 Mile Commentator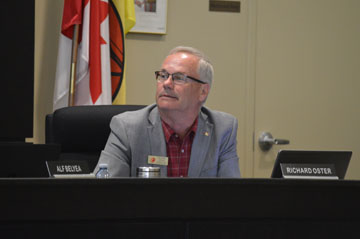 Southern Alberta Newspapers file photo Cypress County Reeve Richard Oster
By Justin Seward
Commentator/Courier
Cypress County council took a road tour around the area on May 30 to get its three new councillors up to speed on what roads need work in certain areas.
Cypress County Reeve Richard Oster said there may have been an addition to the current road list chart. His hope is to have all of council involved in the discussion of why roads need to be improved.
"The main thing was actually tour everybody's area and get familiar with it and to get familiar with some of the challenges that are in those areas," said Oster.
A challenge that was viewed and discussed on the tour was the Veinerville area near the city landfill where there is a road that is "highly used" by oil trucks where the county will explore an alternate routes for that sort of traffic, according to Oster.
"We're trying to make it good for the rate payers and so they don't get dusted and at the same time you want to control the traffic," said Oster.
"One of the things that came out of there is we're going to get a price on doing some asphalt paving that will prevent anymore dust, make it a better road something the truck wouldn't wreck."
Seven Persons was another point of focus with approaches on to Highway 3 where there is high traffic flow and it was evident the "oil does not last with the constant breaking with the larger trucks," said Oster.
"We're going to take a look at paving some of those approaches on to the highway to cut back on our maintenance.
Other road issues came from by the observatory and roads in the south part of the county that raised concerns with the snow drifts.
"It's an ongoing thing and we're trying to look ahead and that is why this is a five-year road plan that we put together and constantly change," he said.
He added the county has a lot of good roads and continue to maintain them or make improvements.
"It was nice to see that pretty much everybody had the same complaints," said Coun. Michelle McKenzie.
"It didn't matter which area we went into and that we're dealing with it. At least in my area, every year in the spring time and the harvest time when they're hauling the big equipment through, that's when the roads get bad."
She said an agronomist came on the road tour and told those who were affected by last October's fire that their pastures will grow only if it rains.