Talon athetics award honours Rozdeba
Posted on June 13, 2018 by 40 Mile Commentator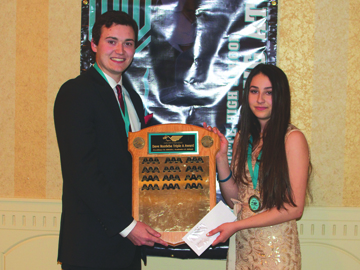 Aiden McLean and Livia Ricci won the Dave Rozdeba AAA award at the Talons Athletic banquet on Wednesday night at the Medicine Hat Lodge.
By Justin Seward
Commentator/Courier
The Eagle Butte High School Talons held their annual athletic awards ceremony at the Medicine Hat Lodge on Wednesday. But it did not come without some emotion from students, families and faculty alike to conclude the evening's proceedings.
Teacher Darryl Smith had to choke back tears when talking about the newly established Dave Rozeba AAA award in honour of the late vice principal who passed away of cancer last fall.
"Dave has been an integral part of Eagle Butte High School and Talons Athletics," said Smith.
"Dave's coaching, expertise and influence has reached many different parts of Canada and the CIAAA (Canadian Interscholastic Athletic Administries Association) has created an award in his honour that will be given out annually to an athlete administrator in Canada."
The award will be handed to the male and female athletes who show extended attitude, academics and athletics, which is all apart of being a Talon, mentioned Smith.
"We've chosen to honour Dave's legacy with the AAA because of his commitment to athletics was evident in the many years he spent coaching not only teams at Eagle Butte but within the community," said Smith.
"He was also an outstanding teacher. He pushed his students to strive academically and above all he worked with all students to focus their attention (and) attitude in a positive direction."
The recipients of the award went to Aidan McLean and Livia Ricci.
McLean, a Grade 12 student, knew Rozdeba as a teacher and said he was influential in everything he did for his students.
"Very honoured," said McLean.
"He was all about positivity. There was never anybody that was having a bad day if you were around him."
He played football, cross country,rugby, basketball and plans to pursue lacrosse.
Both students received a scholarship with the plaque.
For Ricci, she remembered Rozeba as her junior varsity basketball coach and a mentor.
"Emotional," she said of receiving the award.
"Some coaches would get angry at you and yelling. Mr. R was always giving good advice and mentored me and just being a good guy."
Twin brothers Ethan and Eric Lust shared the Male Athlete of the Year.
"It's really cool that we can share this moment," said Eric.
He added to be recognized by Eagle Butte athletics because he looked up to alot of coaches and teachers.
Grade 11 cross country provincials stood out for him as a memorable moment during high school athletics.
Ethan said him and his brother earned the award equally being on the same teams growing up."You have that chemistry from past years," said Ethan.
"It's comforting going into a new school knowing you know somebody there and it's not all new."
Female Athlete of the year winner Amer Karamanos said it was "really awesome," to be nominated in front of her teammates because she has not won an award similar to this one before and competes in a lot of school sports.
Being in a lot of sports has allowed her the opportunity to "further my athletics and not just quitting after high school and really not furthering it."
She could be seen in cross country, badminton, volleyball, basketball and softball.
Karamanos signed with the Medicine Hat College Rattlers to play basketball next year.
Other major award winners included Trevor Mickey taking the Spirit Award and the Team Academic Award going to the Track and Field team with an average of 86.6, edging out the badminton team.