Endangered burrowing owls nestling at CFB Suffield
Posted on June 27, 2018 by 40 Mile Commentator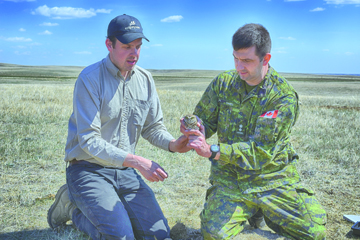 Graham Dixon-MacCallum and Base Commander Lt.-Col. Mike Onieu release the first burrowing owl into the CFB Suffield National Wildlife Area in May, as part of a new head-starting project to help this endangered species.
By Justin Seward
Commentator/Courier
Scientists and soldiers at CFB Suffield have gone the extra mile to ensure that the endangerd burrowing owls have had a head start in their new underground confines at the base.
The project for the burrowing owls reached a milestone this past spring with the release of eight adult owls into the base's national wildlife area.
Burrowing owls are the only birds of prey that nest underground. Artificial nest burrows were built by the project team to accommodate the animal in the CFB Suffield National Wildlife Area, which is close to the current nesting site of the wild burrowing owls.
Owlets were taken from the base and surrounding areas in 2016 as a part of the conservation program in partnership with the Calgary Zoo and the Environment and Climate Change Canada (ECCC). Graham Dixon-MacCallum, conservation research associate with the Calgary Zoo, said they got involved two year ago with the project to trap those owls that would not survive their first year of life and keep them at the zoo's off- site breeding facility over the winter, releasing them the following spring at the base.
"The biggest thing is we keep them at this off-site facility so they have little contact with people as possible so they stay wild as possible," said Dixon-MacCallum.
"So other then checking on them to make sure they're OK and are still eating , alive and healthy. It's fairly hands off. The reason keeping them that year can help is just that young ones are not as strong at flying. In the wild, you find that owls that leave their nest, migrate to Mexico and back."
He added that six per cent of first year owls survive a flight, while 40 per cent of the owls over a year old survive and a lot the species were not coming back to Alberta due to habitats being destroyed.
"We're trying to circumvent losing some of them by keeping them alive at the zoo and releasing them when they're older," he said.
"I think burrowing owls are an iconic species in a way. We talk a lot with ranchers in this area. You know people talk about how much they see owls and how much they like them. Just like any species in terms of value, people like having wildlife out there and we noticed declines and it's sort of our duty to try and do something about that.
"Owls have been around longer before people were here and they're declining largely because we're changing their habitats. It's our job to do something to stop that."
The owls have been released in pairs, where their eggs have been released and hatched, while the baby nestling have been getting bigger everyday, he said.
As for the base's experience with the project so far, Danny Laganiere, environmental officer for CFB Suffield said for that him it was about putting the right elements together in making sure the project would be successful and safe.
"We needed military engineers and ammunition experts to be able to conduct the project," he said.
"And do the digging to the install the burrows. The CFB Suffield base commander right from the start was fully willing to provide the resources to
This year has seen some of the owls come full circle, where some being released to their parents nests'with the CFB Suffield National Wildlife Area.
There is believed to be as few as 400 female and male pairs of burrowing owls left in Canada, according to ECCC's population estimates.