A bond created through letters
Posted on July 3, 2018 by 40 Mile Commentator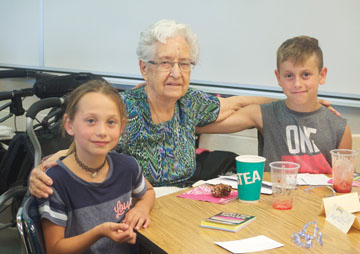 Karidee Millington, Mae Mamona and Elliot MacDougall share letters and enjoy a cup of tea and jello.
Justin Seward
Commentator/Courier
When Grade 3 Irvine School teacher Jordana Dyck was teaching kindergarten last year, she and friend Melissa Schlenker from Chinook Village were discussing ideas for new initiatives and came up with the Pen Pal project.
Dyck said to Schlenker that if she taught a higher grade the following year, she would like to get this project off the ground and running.
It was around last Christmas students started sending cursive-style, hand-written letters to their pen pal senior friends at Chinook Village to get to know some of the residents.
"We've gone back and forth six times," said Dyck.
"They've gained a lot of friendships in the class. They really look forward to their letters. My focus for my kids is for them to write a letter and express their thoughts and their ideas and getting interested in other people."
"After that first letter of giving those probe questions, what can we say, what can write,they took off on their own."
She added that now at the end of the school year, that different Pen Pals will talk about different things including what they did at school, while others learned about what the seniors went through at school.
"A lot of them laughed when they found out they had to ride a horse to school," said Dyck.
The students were "jumping" when they found out their Chinook Village pen pals were coming to visit them on June 26 at the school to play cards and have coffee. This was the second time the seniors and students met after they visited the senior residence on June 15.
"When we met them a week and a half ago for the first time, there were so many tears and hugs," she said.
"They've all gained new grandparents."
Dyck is teaching Grades 5 and 6 next year and is hoping the program will follow her
Schlenker is the lifestyles coordinator at the Chinook Village and said it has been phenomenal to see the inter-generational connection between the students and seniors.
"I think it's good for the children to see that seniors aren't scary," said Schlenker.
"Like they're very neat people and have great stories to tell and there is a lot of history with them. It's good to show the children the value of seniors."
Seniors have given their home addresses to the students to stay in contact over the summer, she added.