Barrows set to compete at nationals
Posted on July 3, 2018 by 40 Mile Commentator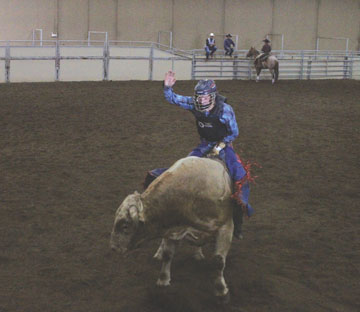 Foremost School junior bullrider William Barrows seen here riding at provincials in Ponoka in early June where he earned a spot at nationals in Wyoming in a couple weeks.
Justin Seward
Commentator/Courier
Grade 11 Foremost School student William Barrows rode his bull to perfection as he was able to place fourth in a field of 22 bull riders at the High School Rodeo provincials in early June in Ponoka, securing him a spot in the National High School Rodeo Association (NHSRA) coming up in Wyoming.
"I thought I had a few good rides put together," he said.
"I'm pretty excited of going for the experience. It's definitely going to be different with it being bigger. I think I'm feeling pretty good going in. I'm going down like it's any other bull. Just do the same thing I normally do, 'clear the mind and just ride.'"
Barrows, who also participated in the steer riding competition at the Calgary Stampede, will be one of 1,650 contestants from 43 states, five Canadian provinces, Australia and Mexico that will compete in the NHSRA's world largest rodeo and vying for more than $200,000 in prizes and $350,000 in college scholarships, while having the chance to being named a World Champion.
"Just don't over think it," he said.
"Just go in like it's any other day."
He added that he takes pointers from other bull riders, while hopefully practicing twice a week in the winter time and in the summer every weekend at the rodeos.
"A lot of it is training the mind to react when you're on the bull," said Barrows.
He will be accompanied on the trip with his first year riding partner Zane Tully of Consul, Sask., who Barrows looks at as his "biggest competition … (who) always like to compete with each other." "I would like to try with some of the better riders, to push each other to be our best."
He is planning to soak in the whole experience and come home with a scholarship.
The 70th edition of the NHSRA with go from July 15-21 in Rock Springs, Wyo.