Byam earns spot on youth national team
Posted on July 10, 2018 by 40 Mile Commentator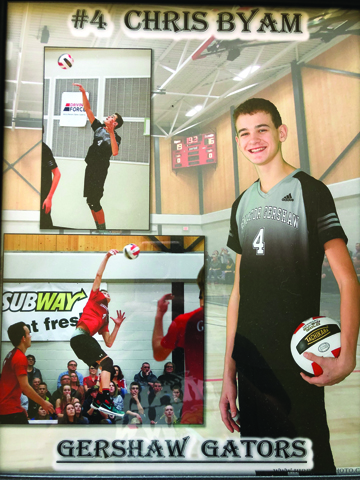 Chris Byam
By Justin Seward
Commentator/Courier
Grade 11 Senator Gershaw volleyball player Christopher Byam only took up the sport seriously within the last three years and now will have the opportunity to represent his country as part of the Team Canada Youth Mens team at the US High Performance Championships later this month in Tulsa, Okla.
The 28 players were chosen because Volleyball Canada wants to develop them to national team potential.
"It's a pretty big step," said Byam, who also played club with the Taber WHAM this past season.
"My goal is to play on the national volleyball team. Obviously making this team was a huge step towards that goal. It's really nice to be making progress."
The towering Grade 11 student gained more of interest in volleyball after trying out for the Alberta Winter Games three years ago.
After that try-out, the coach at the time was looking for players for his club team.
Byam could be seen training with colleges and universities, which helped him a lot with the high-level atmosphere.
Three months ago, players received an e-mail to a mini-camp in Edmonton for two days, where they trained and after the team's brass scouted the athletes through their premieres, nationals and provincials.
"About a month ago we got the e-mail saying that I'd be offered to play on the team," he said.
"It's not that really much of a try-out process. It's just the one little identification camp and then they just watch you after that."
"It's nice being from a small town and getting out, getting different coaches and hearing different perspectives on everything."
A detailed plan has already been set out for the players with set maximum jump counts, while in the days leading up to the beginning of camp, a weight and nutrition program were implemented.
Byam said he doesn't have many expectations for the tournament, but is looking forward to meeting new people and competing at an elite level of volleyball.
"I've done a bit of research myself but I haven't heard anything," said Byam on the Tulsa event.
"I'm just keeping that open mind. I think it's nice going to these things to work with such high caliber coaches. I learn a lot about mental and physical (aspects)."
The team will hold a camp in Calgary starting on July 14 for a week before heading off to Tulsa on July 22 to compete in a couple of tune-up scrimmages before playing for real in the U.S. High Performance Championships from July 24-29.