Hyland first inductee on Gershaw Wall of Fame
Posted on July 10, 2018 by 40 Mile Commentator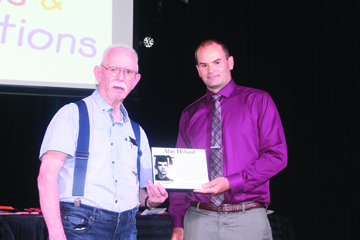 Alan Hyland received the inaugural Senator Gershaw School Wall of Fame award from school principal Scott Angle on June 28.
By Justin Seward
Commentator/Courier
Alan Hyland has done a lot for the Bow Island community over the years and now can proudly say he's the first inductee on Senator Gershaw School's Wall of Fame.
The town councillor was presented with the award on June 28 by principal Scott Angle.
"I want to leave this place in better shape than when I got here," said Hyland. "Volunteering is the price you pay for space you use."
The award goes to those graduates who exemplify and make the community such as excellent place to work and play. The school community has instituted the Senator Gershaw School Wall of Fame award.
Hyland was elected to town council in 1971 at the age of 26 and served until 1975 before being elected to the Alberta Legislature as the MLA for Cypress. He served on a number of committees for the 18 years he was in legislature. The Bow Island mayor's chair became his in 1998, which he held until 2010 where he was acclaimed councilor. He spends countless hours volunteering at the Bow Island Elks, Bow Island Legion, St. Andrew's Church, Forty Mile Regional FCSS Chairman and Senator Gershaw School's chairman just to name a few.
Hyland also received the Queen's Medal in 2013 and the Distinguished Service Award in 2016.