Missionaries from Kansas bond with Bow Islander over music
Posted on July 10, 2018 by 40 Mile Commentator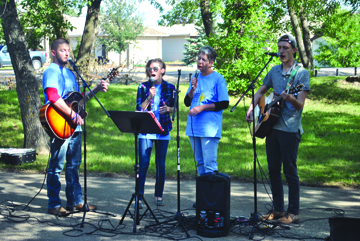 Commentator/Courier photo by Jeremy Appel Adam and Ashley Bedient, and Kathy Conway, missionaries from Portis, Kansas, as well as Island of Hope Church intern Davyn Carlson, provide entertainment for Market in the Park to open the event in 2018.
By Jeremy Appel
Commentator/Courier
Thirteen missionaries from Portis, Kan., came up to Bow Island recently to assist the Island of Hope Church.
Three of them realized they share a love of music with Island of Hope member Davyn Carlson, so they started to jam and ended up providing entertainment for the summer's first Market in the Park, which happened to occur on Independence Day.
The two churches' pastors met at a Grace Brethren Church conference and connected, since both are from small communities, although Bow Island is much larger than Portis, which has a population of just 98.
"Let's just go connect and be encouraging to each other and just show the love of Jesus to people in both countries," Kathy Conway, one of the Portis congregants, said of the decision to go on the mission to Bow Island. "It's been an awesome week."
The three bandmates from Kansas perform with their church's music ministry.
Ashley Bedient, who came with her husband Adam on the mission up north, said they had never had an opportunity to perform with Conway before, because Conway performs on a different schedule from them.
"It's been really awesome and then Davyn is amazing in music ministry," said Ashley.
Carlson, who originally hails from Medicine Hat but moved to Bow Island after a stint with a church in Vancouver for two years, is working on an internship at Island of Hope, part of which includes music.
"Naturally, we kind of hit it off, because we're (all) into music, so we just started jamming together," he said.
Ashley highlighted the important role of music in prayer.
"You worship in every aspect of your life, but there's something beautiful about music. It comes out in praise to our Father.
"It's just been really fun to have that connection and just play and enjoy it," she said.
"Music gives us a chance to reach people in a way that we otherwise might not," agreed Adam.
"As opposed to just walking up to somebody and evangelizing with them in that way, I'm much more comfortable at this point doing it through music."
Conway said she feels an incredible amount of hospitality from Bow Islanders.
"It was just like coming home," she said.