Redcliff RCMP asks for public's help in catching assault, theft suspects
Posted on July 11, 2018 by 40 Mile Commentator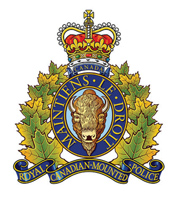 By Jeremy Appel
Commentator/Courier
The Redcliff RCMP are soliciting assistance from the public to catch two suspects who almost ran over a Cypress County farm owner who confronted them as they attempted to steal diesel fuel.
The truck used by the suspects, which is reported stolen, is a red 2008 Ford F350 with a sliptank in the back and an Alberta license plate, numbered EFZ-473.
One of the suspects is decribed as wearing a ski mask with glasses at the time of the assault and robbery, and "likely has blonde hair," according to an RCMP news release.
An occupant of the same truck was reported trying to cash a fraudulent cheque at the Servus Credit in Redcliff.
Since the suspect has "already shown disregard for safety," the release urged the public not to confront them.
"Please should be cautious and call the police," said S-Sgt. Sean Maxwell.
Anyone who's seen this truck is asked to call Redcliff RCMP at 403-548-2222 or their local police detachment.