Dryness hits County of Forty Mile
Posted on July 17, 2018 by 40 Mile Commentator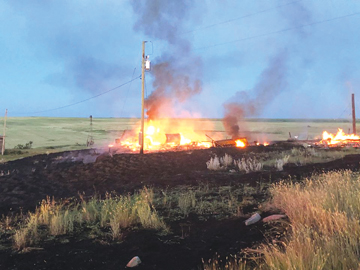 The County of Forty Mile has seen very little moisture recently, prompting county fire chief Dustin McGarry to put a fire restriction in place last week until further notice.
"Right now we're seeing a bit of drying trend," said McGarry.
"The hot temperatures and windy conditions are fine fuels. So all of our grass and crops are starting to cure up a bit more and dry out, creating increased fire behavior in those fuels and the rapid rates of spread."
County fire crews were called out to two fires with first being on July 10, which was lightning caused in the Highway 885 area, while the other was on the calm July 11 evening east of Forty Mile Lake and still being investigated.
"I currently monitor fire indices," he said.
"I can calculate the fire hazards in our county and currently our fire hazard is very high to extreme throughout the county and wildland-type areas."
He said the fire departments are continuously training to ensure the gear is always ready to go and the landowners are diligent because the availability of water trucks and helping when called upon.
"If you are having a backyard campfire ensure you have adequate supply to control and extinguish your fire," said McGarry.