Redcliff Youth Centre to enjoy new patio
Posted on July 17, 2018 by 40 Mile Commentator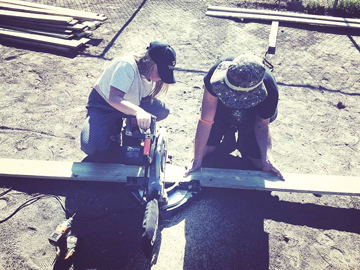 By Jeremy Appel
Commentator/Courier
Redcliff's Youth Centre is looking at expanding its capacity after the daycare that was renting out the back part of its building moved out.
The whole building is owned by the youth centre.
While backyard renovations are currently in progress, the centre's program co-ordinator is hoping to secure grant funding for interior work.
"We're just looking to tear down some walls and renovate so that the whole area can be utilized," said Janae Ulrich.
Currently, the building has a capacity of just 45 kids, so some have had to be turned away for certain popular events, like the centre's all-nighters, she added.
"We already have a high volume of kids coming in," explained Ulrich. "We have to cap it off, unfortunately."
The backyard renovations that are currently underway include building a new deck, concrete basketball court and beach volleyball court.
This work is funded by sponsors.
Rona provided the patio material and supplies, Landscape Depot provided the volleyball court's sand and Bertsch Concrete contributed a 10×15 cement pad for the basketball court.
Kids are helping with the work, laying the concrete and building the patio.
"It's giving them good life skills," said Ulrich.
The interior renovation is still very much in its early stages.
It's unclear how many more kids will be able to fit in the building, since the centre is focused right now on procuring funding for the project.
The town provides the youth centre with a certain amount of funding annually, but in order to provide more, they need to wait until their contract is up, which doesn't occur until next year, Ulrich said.
"It's all just kind of a waiting game," she said.