There's a new doctor in town
Posted on July 17, 2018 by 40 Mile Commentator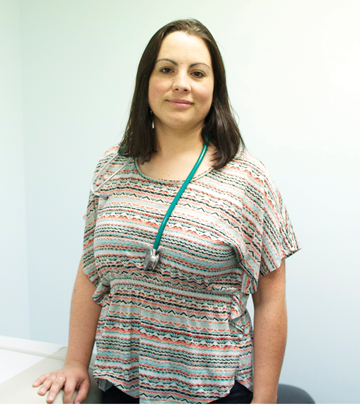 Bow Island and area's newest doctor Dr. Cecilia Gordillo.
Justin Seward
Commentator/Courier
Dr. Cecilia Gordillo began her tenure as Bow Island and area's fourth doctor back in June. She says she prefers the smaller community practice over the metropolis experience she had in both Edmonton and Calgary.
After graduating in 2015 from her Family Physician post graduate degree in Argentina, she was contacted by a representative in the rural program about a position in Bow Island, while she was living in Edmonton working in medical clinics in administration. She was flown down to the community in 2016 to tour the town and met both the town's mayor Gordon Reynolds and manager Anna-Marie Bridge.
The Bolivia native met Dr. Jerry Woodruff first who was the only physician at the time.
"I liked the community," said Gordillo.
"I went on with my application to the (Canadian Physicians and Surgeons of Alberta) college and then I came here June 1 and met the other two physicians, Dr. Dhanani and Dr. Tawfeeq. And so a bigger team of physicians and I have to say the welcoming was great. I met so many people here and everybody was warm and supportive."
Prior to arriving in Bow Island, she was in Medicine Hat to work until her paperwork working through a supervised assessment in January for three months of this year.
"The intriguing part is you have to be very well trained and have to have the knowledge," she said of being a small town physician.
"And you're pretty much it in a rural scenario. I accept that challenge because you actually learn more than if you're in an urban scenario where you sit in a walk-in clinic and you just see coughs and colds. You get to know the people because you become their family doctor."
She said she has had a great connection with the local Mennonites because they speak Spanish and have Bolivian roots.
The interest in becoming an international doctor peaked upon returning to Bolivia after her dad's Fullbright scholarship in Latin American History was complete in New York in 2005 and she saw a newspaper ad.
"Oddly enough, an article came in our newspaper there saying 'people needed,'" said Gordillo.
"There's a lot of immigration to Canada. People needed doctors. At that time I was married with two kids and we thought 'OK, lets all move there and lets go there and work.' It took me almost three years to do all my paper work, I moved here in 2008 and started all my application to the CPSA college and realized it wasn't easy as I thought it would be."
She immigrated to Calgary in 2008 working in medical clinics as an administrator until 2012.
She has signed on for a five-year stay in town, while also working in Bow Island Hospital's emergency room.