PRSD teams up with Desjardins for hockey academy
Posted on July 24, 2018 by 40 Mile Commentator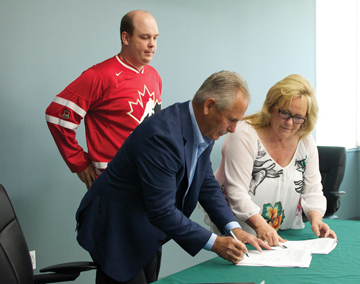 Wille Desjardins officially signs the dotted line for the hockey academy while PRSD's board of trustee Cathy Hogg and treasuer Ryan Boser look on.
Justin Seward
Commentator/Courier
Former Medicine Hat Tigers' coach Willie Desjardins and the Prairie Rose School Division (PRSD) announced at the school division's head office on July 23 that the Willie Desjardins South Alberta Hockey Academy will be starting this fall in local schools.
The hockey academy will be connected to Global Sport Academy and will be offered to junior high school and high school male and female players at Irvine School, Parkside School and Eagle Butte High School.
Both the Irvine and Redcliff arenas will be used for the program.
Talks between Desjardins and PRSD's assistant superintendent Reagan Weeks began at the end of June and came together quickly.
The partnership with PRSD will provide students with a learning opportunity that focuses on the combination of academic and leadership excellence.
"With Hockey Canada, I've always believed in the academic and academy schools," said Desjardins, who most recently brought home bronze as Team Canada's bench boss at the 2018 Winter Olympics in South Korea.
"You bring in kids at a young age and you give them coaching. I've been looking for a couple years to do something. Brent Sauer and Reagan had talked and Brent had thrown out my name because I talked to him about it.
"And Reagan had come talk to me. It's just a great fit. They were looking for something and I wanted the chance to put something together for young students."
His only NHL head coaching job was with the Vancouver Canucks from 2014-2017 where he helped the team get to the playoffs in his first season.
"Sometimes it's opportunity where two things meet at the same time and that's kind of what happened," said the Climax, Sask., native.
There may be other coaching opportunities out there but his focus right now is to get the hockey academy off the ground and running it right for him.
"We want to allow kids to follow their passion," said Desjardins.
"If they're passionate about it, we want to find a way to put that in place via whatever sport."
Desjardins spent eight seasons behind the Tigers bench and everytime he and his family come back to the Gas City they always feel welcome.
"It's great," he said.
"It's a perfect spot for me to do it and I couldn't be happier to do it here."
For PRSD to talk to Desjardins about moving forward on new learning opportunities was a dream come true for the school division, said Weeks.
"It's not a sport that is traditionally embedded into the school environment, so this a wonderful chance," said Weeks.
"We also recognize for a lot of families, hockey is a significant commitment and to be able to have time on ice, dryland, sports psychology all happening in the school day is not only a wonderful chance for those students but for parents who maybe can't take their students to those type of programs."
She added fees as of the press conference were between $2,500 and $3,000 but will vary depending on enrolment.
Registration forms are available through PRSD's website or at their office.