Bow Island goalie has great experience in Regina
Posted on July 31, 2018 by 40 Mile Commentator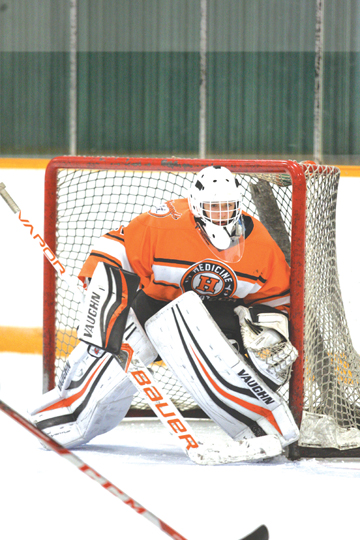 By: Justin Seward
Commentator/Courier
Bow Island Minor Hockey alumnus and current Medicine Hat Hounds bantam AA goaltender Bodee Weiss caught the attention of junior hockey brass at the Western Prospects Bantam Showcase in Regina recently.
The 14-year-old said he thought he had a low chance of making the prospects game at the end of a packed camp of more than 100 players.
"I thought I did pretty well … (I let in) about one goal per game" said Weiss.
"It was way faster than what I played this year. I'd say a lot of AAA players with AAA speed. A lot more faster skating and faster shots.
"I just worked a lot more on my angles and focusing more on tracking the puck and making sure I was aware more of my surroundings."
The camp was productive for him where he was mentioned in the Western Elite Prospect scouting chart that he was ranked ninth out of 15 players and number one among goaltenders.
"I think it feels really good and hopefully it opens up more opportunities for invites to camps and teams moving forward," he said.
"And hopefully the WHL draft this upcoming year."
There was a feedback session with his team's general manager and coach that watched the players and provided the most insight, he added.
"I got some from some of the other coaches and scouts that I seen there, just telling me I had a good game."
The game plan for Weiss is to try out for the South East Athletic Club bantam AAA team this year where if he cracks the lineup between the pipes that he might be exposed more to scouts including the WHL's Tigers.
During the off-season he is training with Tom Wilde at Badlands Crossfit for off-ice sessions and with Trent Derzaph at Surge Hockey for on-ice.
"Especially with the Badlands, my off-ice, I'm getting quicker and just more stronger all around," he said.
"Plus the PEP sessions. They're helping with tryouts and if I have any upcoming camps I'm just staying on ice."
Tigers goalie coach JF Martel has consistently trained Weiss in the summer.