EDA to have new identity come the fall
Posted on August 7, 2018 by 40 Mile Commentator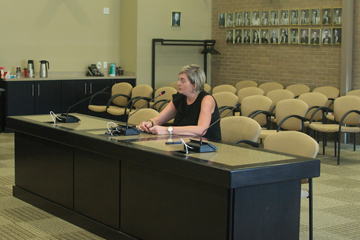 Commentator/Courier File Verge Economic Development executive director Theresa Hardiker
Justin Seward
Commentator/Courier
Well you know what they say, out with old and in with the new.
That is the process the Southeastern Alberta Economic Development Alliance (EDA) is going through and will be known as Verge Economic Development-a partner with southeast Alberta- come the end of September.
The new name was decided on by the EDA board members and means an incline in a certain direction or towards a particular state.
"So moving forward looking for the opportunities and gaps presented in the region and looking for economic development and being able to have that direction and collaboration from within the four areas that we represent," said Theresa Hardiker, executive director for the EDA."On top of that we're doing a new logo. The logo is rounded, italicized and bold. (We're) moving away from the idealistic of the EDA logo and we're moving forward into something with very bright colours, yellows (and) bright blues."
"A real fresh look on the brand and brand recognition."
Historically, the EDA had a certain name and opportunity that came with that and went through changes, while there was development in how and what the EDA would like moving forward, she added.
"The EDA was a good umbrella to stay underneath because everybody was in recognition of it," said Hardiker.
"Over the last couple of years, we've gained a lot of traction as far as being the person with ' the boots on the ground,' in the four areas and felt it was time to take a look and do a refresh."
Five different names came up in the rebranding stage and Verge was not their first choice but after researching the original name there was a similar organization elsewhere in the province.