Bovine TB results come back negative
Posted on August 21, 2018 by 40 Mile Commentator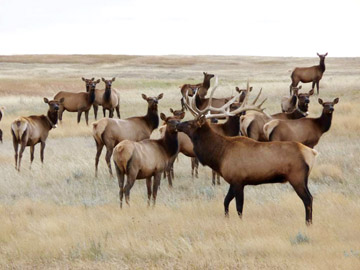 PHOTO COURTESY OF CFB SUFFIELD - CFB Suffield will be staggering its elk hunt this year to put less pressure on the range, while at the same time opening up previously unhunted areas of the base to thin herds out of sensitive wildlife areas.
Justin Seward
Commentator/Courier
Collin Gallant
Southern Alberta Newspapers
The second year of testing for bovine TB in the elk herd at CFB Suffield has again turned up no sign of the disease, according to a release of the findings by Alberta Fish and Wildlife.
That's good news for the cattle industry and government officials who have warned that should the disease trace back to or spread to wild elk, the task of eradicating it in the region could stretch years.
As it is, the Canadian Food Inspection Agency last winter declared the breakout of the infectious pulmonary disease in the region was contained, and lifted a quarantine on specific cattle operations.
At the time the outbreak was declared in 2016, provincial and federal agencies began a three-year surveillance program to determine if the infection was present in rangeland elk.
Specific to the 2017-18 hunting season at the base, a total of 351 elk were harvested with no lesions in the body cavity or heads reported by hunters or game inspectors.
Laboratory testing on tissue samples from 138 elk all returned negative. No positives were discovered in 120 elk examined during the 2016-17 hunting season.
As for cattle, federal regulators said this summer that no more than the original six positive cases (all in one herd) were found during an extensive tracing and testing program. The quarantine led to more than 10,000 animals culled and tested. The particular strain of tuberculosis is similar to a strain from Mexico, officials have said, adding the exact origin of the disease in Canada may never be fully determined.
In conjunction with the TB testing last winter, a total of 144 heads were also testing for Chronic Wasting Disease from Suffield. That was part of a province-wide Chronic Wasting effort that resulted in tests on 2,500 white-tailed deer, 230 elk and 200 moose.