The rope course puts skills to the test
Posted on August 21, 2018 by 40 Mile Commentator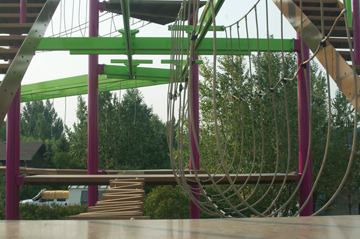 Justin Seward
Commentator/Courier
The new rope course at the Dunmore Dugout has been open for a couple weeks and it is bound to give a young kid or even an adult the challenge of balance, focus and durability.
An interested challenger will be strapped in a harness and begin the 26 attraction rope course by going up stairs through a pole maze before hitting other obstacles including the lilly pads, walking on rope bridges and wooden platforms to a name a few.
The addition took two and a half years to complete with the purchasing of the structure and a new coat of paint.
"The initial thought was to put this inside this building," said Hamilton.
"Then we realized it was so big, it would be one attraction. You need more than one attraction to keep people coming."
"We wanted something that was good for everybody. We have a lot in here that's good for little kids. We wanted more attractions that would get the teenagers and adults involved too."
To go on the rope course you have to be 44 inches (111 cm) tall to be with a parent or 48 inches (121 cm) to do it by yourself, he added.
"With it being outside, you feel the element of being free and up in the air," said Hamilton.
"Some people have the fear of heights. Some people can make it through and some don't make it through. Then you get the young ones with no fear and they zip through it and have fun just like that."
The maximum amount of people allowed on the jungle gym like structure is 20 at a time.
But while the towering configuration is noticeable from the highway, the wind would take the signs.
"I would love to have signs and now open and stuff, said Hamilton.
"But just not feasible with the wind we get out here. A lot of people stop. As a matter of fact,… we had people from Ontario, Manitoba, BC, Saskatchewan and Northwest Territories all just driving by, seen it, stopped and checked out the fun centre and spent a few hours here. That was just in the one day."
The rope course costs $15 and is open from 12 p.m. to 7 p.m. and that gets you unlimited use.