County cancels road project
Posted on August 28, 2018 by 40 Mile Commentator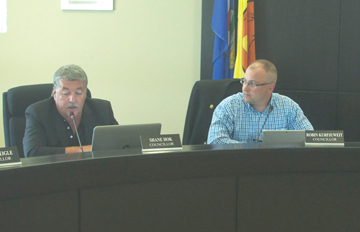 Cypress County Couns. Shane Hok and Robin Kurpjuweit talk about the tender for a county road project at the Aug. 21 meeting.
Cypress County Coun. Shane Hok moved the motion for council to cancel the Township Road 162 project after council had a discussion about the bid price comparisons at its Aug. 21 meeting.
It was back in July that tender packages came open for bidding and four submissions were received.
However, one of the submissions failed to acknowledge an addendum, resulting in a tender package not meeting the county's requirement and was considered out of compliance.
The capital budget for the project came in at $525,000, while the lowest bid price was from BYZ Enterprises Inc., at $1,100, 610 and reflected a short fall of $575,610 for the county.
Hok was frustrated because the county had asked for the unit price for culverts and that amount did not show up and emphasized there are standards.
"You've got to look, are we building roads or are we building trails," said Hok.
"What is there end use? Because if they're soft and they're talking about putting down oil and stuff, it won't stand up. I've dug up a lot of roads with a shitty base and it had nothing to do with asphalt."
"We've got to look at the situation. If we're building a road into a farm yard, that's different. If we're building a road going into a community, that will eventually be paved or oiled. We've got to look at the future."
Coun. Robin Kurpjuweit believed it should not have gotten to the point where a staff member was telling council that their budget was on a different standard then what the tender was initially was set out to be.
"The feeling that I got was there was a certain point there where there was a level of defensiveness that came in," he said.
"That was probably not needed because it was not about what he did or didn't provide from a pricing perspective.
"When you have a county standard that's not a designed road,that's giving basic-on-basic information. We were comparing numbers at the last meeting that were not remotely close to each other. That's the part that really bothers me."
Council approved Hok's motion to cancel the project because it came in over budget.