Bray leaves Pythons in good hands
Posted on September 5, 2018 by 40 Mile Commentator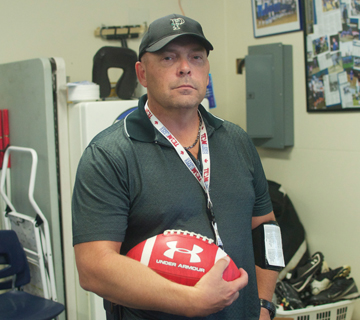 Lloyd Bray still wearing his Pythons hat at Vikings practice.
By Justin Seward
Commentator/Courier
For the first time in 22 years, longtime Parkside Pythons coach Lloyd Bray will be not coaching on the team's sidelines this season/
It was the seven years prior to arriving at Parkside that he was a defensive coordinator with the Crescent Heights School Vikings and has now come full circle as he will be a offensive coordinator with the blue and white this season.
"Coach (Dustin) Ressler stepped down here at Crescent Heights and the opportunity came up," said Bray.
"My son Carter is in Grade 12. I thought I'd switch over and help out for a year here."
Bray and then Parkside School principal Bob Wickens started the Pythons program and the decision was not easy for him to make.
"I had plans to stay there until my retirement and keep the whole thing going," said Bray.
"I was surrounded by a bunch of really great coaches over there. I knew if I had left it's just going to continue to be a good team. I didn't feel I was leaving the team high and dry.
"Nathan Kobley took over as head coach over at Parkside. It was difficult but at the same time I wanted to help out my own son."
There was a desire at Parkside at the time where bantam aged kids needed more than just classroom studies.
"Some of these kids respond to contact sports," he said.
"The regimentation's and just the excitement that goes along with it. I mean it keeps kids in school. If they're not doing school properly then they're not allowed to play football. It's a carrot. It gives them incentive to stay in school, work hard and they get the privilege of playing football."
It was when the coaches gelled for a few years and observed other teams in the league that a winning formula was formed.
That success got the snakes a couple trips to the provincial final, multiple appearances in the south final and a dozen city championships.
"It's been successful in terms of games," said Bray.
"But the relationships you build with the coaches and the players. Those last forever."
What football meant to him in a small community, was that the sport is huge for influencing the academic school atmosphere because the players put in more time when people help out, he added.
Bray plans to be at every Pythons game and still keeps in contact with most of the players.