Foremost library had a successful first Summer Reading program
Posted on September 5, 2018 by 40 Mile Commentator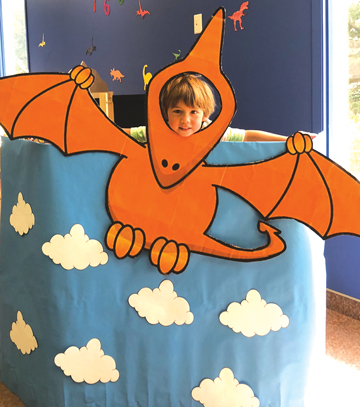 Grayson Walker has fun at the Foremost Library being a dinosaur.
Submitted by Heidi Walsh
The Foremost Municipal Library had its first year hosting their own Summer Reading Program. The theme throughout the summer was "RAWR!". The library was decorated as a dinosaur jungle.
We had a total of 55 children sign up to play our "Dinosaur" themed game board. We had great numbers varying from 10-25 per day.
On July 19th we had our annual summer entertainer. This year we had Mary Lambert come to sing and dance with the kids. On August 7th we had our summer party with a bunch of games, slip n slide, bouncy house, and a yummy lunch.
The library would like to thank all the parents and grandparents for helping and bringing their kids. Thank you to all the volunteers and helpers who helped with activities and preparations.