Local 4-H member recognized for community endeavors
Posted on September 5, 2018 by 40 Mile Commentator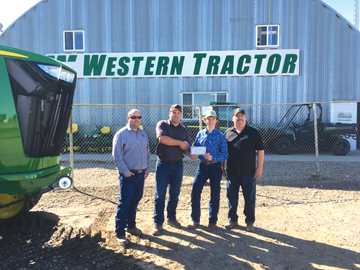 4-H member Dawson Pahl receiving an $1,000 scholarship from John Deere Canada at Western Tractor in Burdett on Aug. 30.
Justin Seward
Commentator/Courier
North Forty Mile 4-H member Dawson Pahl was one of three recipients in Alberta of the $1,000 4-H Canada Scholarship from John Deere Canada.
He was presented with the cheque at Western Tractor in Burdett on Aug. 30.
The scholarship criteria included a member having good community service, being an effective 4-H member and writing an essay as to why they needed the money.
"I'm just very honoured and thankful I had 4-H with me since I was 11 just to help me be a better person ," said Pahl.
He will be enrolled in his first year at Mount Royal University in the Bachelor of Communications program- Broadcast Media Studies this year.
"I think I chose that path because I'm quite good at communicating. Like in 4-H, I've gotten a lot of awards for stuff like that. I guess when I hear the radio I really hear some of their voices and I'm like 'man I want to be like one of those guys one of these days.'
"I guess yeah just get my dream. Maybe get on the radio or TV."
During his 4-H career, he has been in the role of club president to club reporter, while other highlights included being "selected" as a south region ambassador for a two year term.
While an ambassador, he got to plan and emceed 4-H events throughout the province.
It was more recently that Pahl took part in a Steer Carcass project as well as the Market Steer and Cow/Calf.
Carcass judging included type of grade, marbling, rib eye size, fat thickness, weight, muscling, fat colour and cleanliness of hide. His placed third in the province of 30 members.
On Achievement Day it was "on the hook" judging more than market class and judged as a live animal.
He also won a trip to the Northwest Territories in 2017 with other clubs to learn more about agriculture and particularly enjoyed the hog farm.
Counseling local winter and summer camps between Elkwater and Moose Lake over the last four years was a highlight for him because he made sure campers were having fun and learning life skills.
"4-H has definitely been a huge part," said Pahl.
"It's taught me about community service. And the big thing with the scholarship (was), someone with a driven community, and being friendly, helping people there. Another thing it helped me with is the public speaking awards I won. I don't think I would be a good public speaker if 4-H didn't teach me the skills."
Pahl was the only winner from southern Alberta and was a part of a group of 15 from across the country.