Stensrud returns to Cubs
Posted on September 5, 2018 by 40 Mile Commentator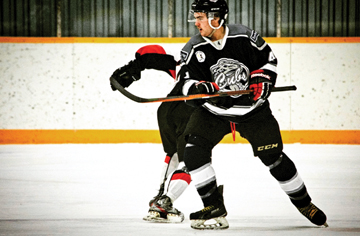 Medicine Hat Cubs' Tristan Strensrud in action last season.
Justin Seward
Commentator/Courier
Bow Island's Tristan Stensrud knew after last season he did not want to hang up the skates quite yet and recently committed to come back for a second season with the Medicine Hat Cubs junior B hockey team.
The 19-year-old played all his minor hockey between Bow Island and Foremost and wants to develop on what he considered a "building" season after the Cubs had stole a game from the high octane Cochrane Generals in the opening round of the postseason a year ago.
"We had a tough first game in the playoffs but we bounced back pretty good in the second one," he said.
"Everyone showed up to play and one (moment) that brighten everyone's spirits and made everyone think maybe next year we have a real good shot."
His plan is to take on a leadership role once the puck drops on the season and be a role model for the younger guys that are coming in, while Stensrud will look up to the other veterans for guidance.
"Everyone leads off of each other," he said.
After finishing minor hockey, he took a year off of playing and decided to coach before getting the itch to put the gear on again.
The Cubs did a lot of shuffling in upper management in the off season with new general manager Dave Kowalchuk and president Richard Fritzler and as a player he considers the moves to be a fresh start for the team.
"We definitely lost a lot of guys," said Stensrud.
"Lots of us are reaching out trying to find new faces to come on board that have finished midget this year or last year. I know our GM, he's been putting the word out."
He describes himself as a player who sparks the team with an important play.
"Real classy kid," said Kowalchuk.
"I had the opportunity to coach his brother Tanner and no surprises. Two really quality kids coming from a good home . I'm pretty proud we were able to obtain him and we expect a lot of big things out of him this season (with) leadership, physical and even adding some scoring.
"He's a franchise player and Bow Island, they did a good job of bringing him up through the hockey years. We're excited to have him back."
He added that Stensrud was the third or fourth committee from last year.
Kowalchuk pointed out his qualities as he drove in from Bow Island with a hockey net and shot around with puck during the team's season ticket drive last Sunday.
Cubs training camp goes from Sept. 7 to 9 at the Kinplex.