County working on implementing updated fire services bylaw
Posted on September 11, 2018 by 40 Mile Commentator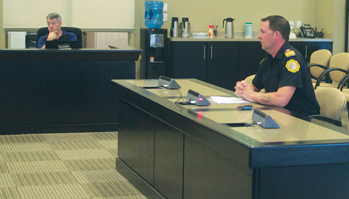 Photo by Justin Seward - Cypress County's emergency services supervisor and fire chief attended the June 6 council meeting and brought with him a detailed report on the advantages of a new fire station in Dunmore. Council, however, voted to go with submitting a bid for the Outlaw Collisions building.
Justin Seward
Commentator/Courier
After not having an updated fire service bylaw since 2002, Cypress County council passed first reading to lay out the framework down at its Sept. 5 meeting.
If the county were to adopt the bylaw, it provides an avenue for council's direction to administration and the public regarding matters associated with fire services within the county boundaries.
The bylaw's focus is to establish the regulations that address the safety, health and welfare for local residents.
Additionally, it will establish administrative duties, responsibilities and authorities of the emergency management supervisor, fire chief and deputy fire chief, the power of an incident commander on scene, fire protection agreements, fire guardians, fire permit issuance, fire restrictions and fire bans, recovery of firefighter costs, offences for contravention's of the bylaw and the right to appeal an order.
"Once we have that done it's just going to be our direction from council on what we can do and what is the bylaw," said county fire chief Kelly Meyer.
"It's one of those things that needed to be done. (We) would've liked to have gotten it done sooner. It took some time just to get it perfect and ready before we put it to council. The more prepared we are submitting this to council, the less changes we have to make, if they don't like something.
"Taking the extra time, due diligence, doing our homework and our research, you're going to make it a better fire service bylaw."
With council passing the first reading of the bylaw, Coun. Robin Kurpjuweit made amended motion to direct administration to add to the fire services bylaw for a fire truck to use a minimum of a 200 gallon water tank with approval from fire chief or deputy chief as designate and bring back budgetary implications for the 2018-2019 budget.
A public hearing will be held at the Oct. 2 regular meeting before second and third reading are passed.