Fire engulfs home near Burdett
Posted on September 11, 2018 by 40 Mile Commentator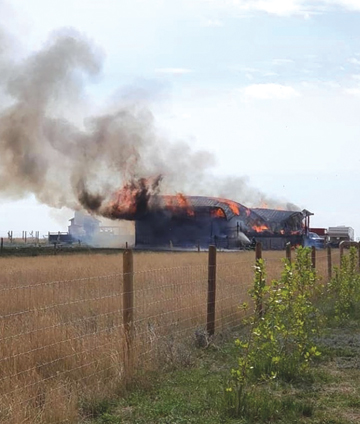 A fire engulfed a single dwelling family home near Burdett on Sept.9.
Justin Seward
Commentator/Courier
It was a group effort to put out house fire three kilometers southwest of Burdett on Sunday afternoon.
The Bow Island fire crew was dispatched at 12:45 p.m. to help the Burdett firefighters battle the blaze in the 1000 square foot single family dwelling. However, the family of seven were out of the house at the time.
"The owners just came back from church," said Bow Island fire chief Kelly Byam.
"And unfortunately we had that to look at. But when we got there it was totally (engulfed) and at that point applied hoses and started to put the fire out.
"We actually knocked down pretty quick. But by then there was so much damage that the house was no longer salvageable."
Byam added other damage was done to immediate land surrounding the house, while the owner of the house made firefighters aware there was ammunition in one of the back bedrooms.
Tanker trucks from Dunmore Fire Station, Bow Island ,the County of Forty Mile and Burdett were on scene fighting the fire. Burdett and the county had an engine present too.
The cause of the fire is still unknown.