South Alberta Hockey Academy expands to Foremost
Posted on September 11, 2018 by 40 Mile Commentator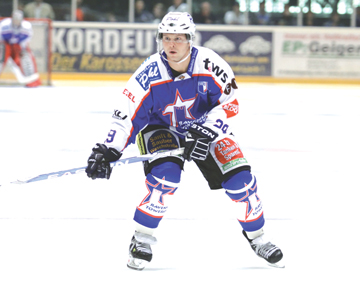 Ben Thomson is seen here playing professional with the Ravensburg Towerstars in the German Del2 League where he played from 2007-2008 to 2011-2012 before retiring. The former Medicine Hat Tiger will be overseeing the Willie Desjardins South Alberta Hockey Academy in Foremost starting later this month.
Justin Seward
Commentator/Courier
Young Foremost School hockey players may have got the news they have been waiting for as the newly formed Willie Desjardins South Alberta Hockey Academy with Willie Desjardins will be expanding to the village's rink this fall.
It was announced in July the hockey academy would be for junior high and high school students in Redcliff's Parkside School, Eagle Butte High School in Dunmore and Irvine School but Foremost was left on the list.
"The Foremost community expressed strong interest in establishing a hockey community that their children could access ," said Prairie Rose School Division assistant superintendent Reagan Weeks.
"The advocacy in the Willie Desjardins group, exploring whether or not we would come on with the level of expertise we need to deliver the program right in Foremost."
The group was able to find Ben Thomson, played under Desjardins for five years with the Medicine Hat Tigers in the early 2000s.
"When those people stick together coupled with (Foremost Minor Hockey president) Shaune Harty, they were able to pull it together in record time," she said.
"The community itself strongly supports hockey and has a number of students enrolled. We're expecting really strong interest."
Students will learn academic and leadership excellence in the program.
A parent meeting was held at Foremost School on Sept. 6 and through formal registration, there were 20 students who signed up by the end of the evening and the exact number PRSD was looking for, she added.
Thomson also played with the University of Alberta Golden Bears and in Europe before retiring and will be the specialty on ice instructor and going through some skills and leadership tendencies and skills for the players.
"Growing up, I'm just like any other southern Alberta kid," said Thomson.
"The dream is always to play hockey my whole life. The game has given me so much in return. The timing as I am and getting older and getting away from the game that it was a fitting time to give something back to the game.
"I think it's going to be great not only for the community but for the kids."
Thomson said if there is that level and experience brought to the table by the hockey community to the small town, the benefits are "going to breathe ten fold."
Foremost's arena will add character to the hockey academy.
"It's still one of those arenas I still get chills from walking into because it's a quintessential rural rink," he said.
"There's a lot of tradition in the town, in the rink and the banners with the minor hockey association. I think this is a great opportunity not only for the community but for the minor hockey association as well."
Thomson, who spoke to the Commentator while on a bean combine, was fortunate to keep in contact with Desjardins over the years.
"I was fortunate enough to have Willie as a coach," he said.
"We developed a great working relationship and we kept in touch over the years and I had a lot of fun watching him doing what he's done and having such a successful coaching career.
"We've stayed in contact through the years and just the way it worked out. He asked me a couple of weeks ago and it fits pretty good."
While disappointment was the minds of many hockey families in the community after being left off the initial list for the hockey academy , it was matter of few phone calls between minor hockey and PRSD that got discussions going.
"PRSD contacted myself and the public school and asked to give them 15 participants, and they would consider bringing it to Foremost," said Harty.
"We phoned around to people in the community and we got 15 pretty quickly and we told Prairie Rose that we could have 15.
"Next thing I knew Willie Desjardins was phoning me in the combine and had question about how this was all going to work. It was quite a surprise."
The three week process was not enough time to get the program together according to Harty but he complimented the Foremost School staff for getting it together.
"They went above and beyond what shouldn't have been asked of them," he said.
"They put in a lot of extra hours and time to make it happen."
He added the hockey academy will coincide with minor hockey because there will assurance that player development will be on track with bigger centres.