Hilda raw water well building to get an upgrade
Posted on September 25, 2018 by 40 Mile Commentator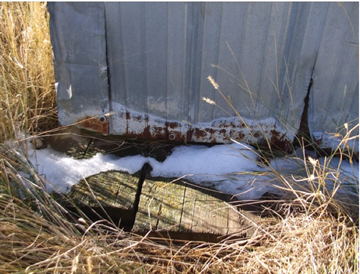 Justin Seward
Commentator/Courier
The Hilda raw water well building upgrade got the go ahead after Cypress County council approved the project to keep up with Alberta Environment and Parks (AEP) standards at its Sept. 18 meeting.
Two written quotations were received for the removal and upgrade of the hamlet's raw water well building with the lowest cost coming in at $84,000. This quote was on top of engineer costs that were expended and the engineer's involvement during construction at a cost of $4,700. The total in the 2018 capital budget was set at $54,000.
Council was initially steered in the wrong direction as their was an shortfall of $30,000 for the project, when the actual short fall was $54,100, bringing the total to $108,100.
The original cost estimate was made without the written quote.
"We should've got a more in-depth study done on it," said county Reeve Richard Oster.
"Instead it was a rough budget number and that rough budget number was not even close. The challenge is that the farmers and ranchers do some projects and even some of us other guys, when we do a renovation or we do a change, we don't have to meet Alberta Environment codes.
"We look at the price and go 'my goodness way too much money.' But when you realize this is a county and we're expecting to do everything according to code, it just changes the whole picture."
The well is inspected every year to make sure it meets AEP's standards and is an emergency raw water source to treat at the Hilda Water Plant in the event of a failure at raw water intake at the South Saskatchewan River.
The raw water well has been used at least twice in the past eight years as an emergency back up due to well failures down at the river.
Council approved the motion where an additional $18,100 was added to supplement the approved budget of $54,000 for the Hilda raw water well rehabilitation project with funds coming from the water and sewer fund and direct administration to undertake the project, employing staff wherever possible with likelihood of the project to be completed in two to three years.