PRSD looking to Dunmore for future arena
Posted on September 25, 2018 by 40 Mile Commentator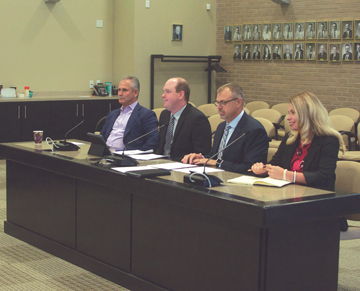 Commentator/Courier photo by Justin Seward Pictured: South Alberta Hockey Acadmey coach Willie Desjardins (l-r), Prairie Rose School Division's sceretary treasurer Ryan Boser, superintendent Roger Clarke and assistant superintendent Reagan Weeks spoke to Cypress County council about the proposed new $10 million training facility in Dunmore on Sept.18.
By Justin Seward
Commentator/Courier
Prairie Rose School Division (PRSD) officials and Willie Desjardins, the brain child for the newly formed South Alberta Hockey Academy, were on hand to discuss the proposed $10 million arena in Dunmore with Cypress County council at their Sept. 18 regular meeting.
Preliminary plans for the proposed recreation and training facility would include an 85×200 ice surface, fitness centre, a multi-sport training area, a 500-spectator seating area, two to three learning and community spaces and four change rooms- that would accommodate hockey teams to name a few of the features.
The facility would be adjacent to Eagle Butte High School and be used by students at the school as well as the South Alberta Hockey Academy and local residents in Dunmore and the surrounding area.
PRSD has to raise $ 1 million and borrow another $2 million for the arena , while the school division is asking Cypress County to pitch in $5 million.
The remaining costs would come through in kind donations, which has a price tag of $2.4 million and includes land cost and a parking lot.
"I think the presentation went well," said PRSD superintendent Roger Clarke.
"It's a big ask that Prairie Rose School Division is asking of Cypress County. The councillors certainly have a lot to weigh in on in terms of if this fits in Cypress County's strategic plan for the area and how to best serve the residents and build some resources in Dunmore that currently aren't existing here.
"It's also a good fit for the Prairie Rose School Division with respect to what we want to build in terms of unique programming, motivational programming and engaging programming for our student body."
Clarke added this is now a normal project that school divisions and by no means is PRSD an expert in the arena concept and will have to rely on other resources including the county.
The facility is "much more" than just a hockey arena and needs to fit more residents' needs, he said.
"We need to be cognizant of the broader community right from our elders in the community or our seniors citizens right to our youngest children and how this resource might provide resources to them for the long haul," said Clarke.
"We want to make sure this is not just titled a community training centre but indeed it is."
Other space in the training centre could be used for local clubs ,groups or even Cubs, Scouts or Girl Guides, dance classes, aerobics, he added.
"It's an ambitious project," said county Reeve Richard Oster.
"I think there will be room for us to participate, but there needs to be conversations with the public ."
Between community rentals and day use of the arena, there will be an operational loss of $83,000 per year and the school division is hoping to have cost shares in the county with.
"It's a big ask," said Coun. Darcy Geigle.
"I said it's a lot of money to spend on something that will lose every year."
The hockey academy began this year in three schools with an enrolment that exceeded 45 student at Redcliff's Parkside School , Irvine School and Eagle Butte High Schools and most recently the addition of Foremost School. Bow Island is expected to start in the 2019-2020 school year.
With the potential for a new facility, there lies the possibility of PRSD bringing a hockey team to Eagle Butte High School through the Canadian Sports School Hockey League in 2019-20 school year. PRSD's idea is to apply for four teams and if successful could bring an additional 60-80 new players to the school.
"I think when you look at start something, you want to see if it can reach its potential," said Desjardins.
"I think there is a lot of areas for growth. I think something like this can affect the community.
"The biggest thing is not having to bus to different places. It just saves time for them to go and do their academics."
Cypress County directed staff to do more research into the proposal.
-With files from Collin Gallant, Southern Alberta Newspapers.