Locking the doors early at BI Hospital not sitting well with health advisory council members
Posted on October 3, 2018 by 40 Mile Commentator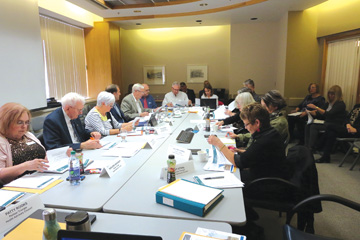 Southern Alberta Newspapers photo by Gillian Slade The Palliser Triangle Health Advisory Council met in Medicine Hat on Sept. 24. A topic that was discussed was the closure of the Bow Island Hospital's doors, which got heated.
By Gillian Slade
Southern Alberta Newspapers
The decision to lock the doors of the Bow Island Health Centre after 5 p.m. ruffled feathers at the Palliser Triangle Health Advisory Council meeting on Monday, and it's being dubbed more than inconvenience.
A situation was mentioned regarding someone arriving at the hospital with a loved one in an emergency and they could not open the door to enter.
Having to press a button and wait for someone to come and open the door in a non-emergency is one thing, but it's a real issue in an emergency, says Sylvia Strom, a Bow Island resident who frequently visits a family member in the long-term care part of the hospital.
She says the only way to open the door from the inside is to press the handicap button, and not all staff responding are aware of that, leading to trouble opening the door.
She says it also causes problems for residents and visitors trying to exit the building if they don't already know how. She feels it could be a safety issue in an emergency.
She further explained increased frustration levels over a lack of public consultation from Alberta Health Services..
Dr. Jack Regehr, AHS south zone medical director, says the decision was made based on "operational best practice."
When the registration clerk at the Bow Island Health Centre retired, the position was eliminated and those dollars went to other budgetary needs. "If we can't do this we are dead in the water," said Regehr.
Marjorie Moncrieff, a member of PTHAC representing Bow Island and living in the community, expressed concerns about not being alerted and given an opportunity to talk about the possible repercussions of such a decision.
"What hospital emergency department has doors that are locked," asked PTHAC member Patty Rooks.
Former chair Ken Sauer wondered if something has happened to the concept of the "patient being first."
"It's a serious situation in Bow Island," he said.
Regehr acknowledged that "positive steps" need to be taken.
Moncrieff admitted to feeling "really stressed" because of not being able to represent her community to AHS. She said she feels as though her message about the need for community consultation is not getting through.
"I'm representing what people are telling me and the concerns that they have, which I think is my role as a Health Advisory Council member," said Moncrieff, who has begun to question the role and effectiveness of the council.