Victim services funding to be cut
Posted on October 3, 2018 by 40 Mile Commentator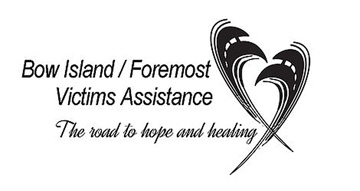 Bow Island Victim Services photo
By Justin Seward
Commentator/Courier
The Bow Island/Foremost Victim Services Association was notified recently by the Alberta Justice and Solicitor General's office recently that their annual funding application had been denied and will take effect as of Jan. 1, 2019.
The reasoning for the funding cut was due to low statistics prior to submitting their grant application in April.
"We're disappointed that we're not going to have a local community board and program manager in place," said Claire Torscher, chairmen of the board for the victim services association.
"We're not really sure what the plan is going to be providing that service. We just know we're interested in doing some community funding to keep the program here in Bow Island."
While the plan moving forward is uncertain, the association was able to reach out the Town of Bow Island Mayor Gordon Reynolds, Foremost Mayor Ken Kultgen, County of Forty Mile Reeve Steve Wikkerink and Drew Barnes to request letters of supports to reinstate their funding, where two have been sent back.
"It's very ill news to us," she said.
"The community is very supportive of having a local program. We have been a program in Bow Island for 25 years. We were celebrating a milestone."
The victim services association's funding  in 2018 was $56,500, $55,000 in 2017 and $48,500 in 2016.
In the event the Bow Island/Foremost Victim Services Association does not reverse the Alberta Justice and Solicitor General's offices decision, the implications are that organization will be ran by another community board in a neighbouring municipality.
"Ensuring victims of crime can access the support and services they are entitled to is a priority. Accordingly, this priority is top of mind when the Victims of Crime Committee reviews grant applications," said an Alberta Justice and Solicitor General spokesperson.
"After careful consideration in reviewing the grant application from the Bow Island – Foremost Victims Assistance Association, the committee's decision was to decline the application.
"We are actively working with provincial partners including local police to ensure services remain available to victims when the current grant expires in 2019. This includes working with the local Victim Services Unit boards to develop a transition plan. A broader plan to stabilize funding in the area and ensure victim services are available is being developed."
Alberta Justice and Solicitor General could not provide further details of the grant application and the committee's decision due to considerations and confidentiality.