Byam uses national exposure in senior year with Gators
Posted on October 9, 2018 by 40 Mile Commentator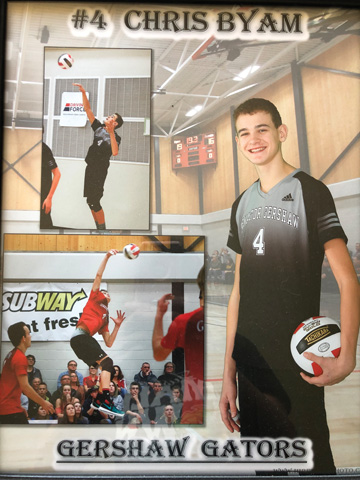 File photo
Justin Seward
Commentator/Courier
Chris Byam is a towering player on the Senator Gershaw School senior boys volleyball team and has no problem taking on that leadership role before heading off to Mount Royal University next year.
"Leadership is one of the biggest things to improve on," said Byam.
"That's my main focus and just helping to contribute to what I've learned. That's one of the biggest things forsure."
Playing for the fifth place youth national team this past summer did not hurt his cause either to learn more about himself and what he can bring to the table in his career moving forward.
"It was overall a really good summer just with the knowledge I came back with was insane. One of the biggest things is just like not the actual how to play the game but how to recover after and just how to take care of your body and just how to get mentally prepared. I thought that was really cool."
The experience helped him in the sense that he knew going in that everybody would be good and little mistakes do not end a game where if a player misses a serve there is 25 other points on the table to gain back.
Now with this short senior season with the Gators, he is one of the older guys on the team and just knowing that he won't be returning next year that the knowledge needs to be passed down to keep up a strong volleyball program at the school.
"No matter how weak teams are that you can play or how good they are, you can always focus on your own skills," he said.
"The biggest thing when I was at Team Canada was just the little things to make a huge difference in your game… Like before every game, I'll go in and think what my goal for every game is and setting something for myself to achieve to get better."
It was a sense of relief to get the Mount Royal signing over with and now he can concentrate on as a strong performance.
"Now thinking back when I was junior high, volleyball was just something to pass time before hockey season," he said.
"I just kept an open mind and realized I can go somewhere in this sport and that's when I really decided to work hard. It's always being positive and open to new things and just setting goals for yourself."
While finishing with silver the last couple of seasons, the goal will be to finish off his high school career in style with a gold medal around his team's neck and put another trophy in the school's case.