Fire Services Bylaw passed; burning period extended
Posted on October 9, 2018 by 40 Mile Commentator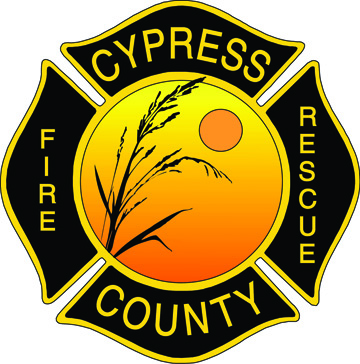 Justin Seward
Commentator/Courier
After a public hearing was held in Cypress County council chambers on Oct.2 for the Fire Services Bylaw, council passed second and third reading of the bylaw.
The bylaw addresses safety, health and welfare for county residents and their property and authorizes operations for Cypress County Fire Services.
"This is just a means of protecting the residence, Cypress County (and) firefighters " said fire chief Kelly Meyer.
"Even if we release 30 fire pits permits out in a month, three of them get away and you get high winds, Cypress County does not have enough resources to manage three out of control fires. We're going to have to contact a lot of mutual aid. We're just going to try and do the process of elimination.
"Burning barrels is a tough one. Everybody uses them. They do get knocked over during the wind. We still regulate putting into the restriction, that we're extremely dry, no burning barrels at this time."
However, it was during the public hearing that a couple of residents voiced their concerns about the burning period under Section. 9-Fire Permits, where permits will only be issued between Jan.1 and Feb. 28 because it is the winter months and conditions would be more favourable for fire burning with snow on the ground.
Administration proposed to council that between March 1 and Dec. 31 of every year that the county would go into a fire restriction.
Campfires, incinerators and burning barrels will be allowed under the fire restriction.
Hilda's Les Straub said although the fire restriction is great idea, there still seems to be confusion surrounding fire permits because people are uncertain as to if there a fire ban or a fire restriction being forced.
"I think this will eliminate a lot of that," he said.
"The county spends millions of dollars to have safe roads, (and)safe water to drink. I think this is another tool they can use to keep their business safe from the things we experienced last fall.
"There was a lot of close calls. One man lost his life."
He added the county does a really good job because of the availability of landfills for scrapwood and ratepayers pay the option through their taxes as it is .
"I don't think there is anything that important that needs to be burned that you can't do during the two months," he said.
"It'll be a busy two months but I think it'll make life a lot easier for Kelly and John (deputy fire chief McBain) and all the fire departments."
While irrigation farmer Don McLennan felt the two month span for a fire permit is unnecessary and unreasonable in a lot of the county.
He took the example of last Tuesday's snow storm and with him not using his burn pit in a little while and with the clouds burning off and no wind, it is now he wants to go burn.
But now he has to go tell the county he wants to have a fire and see no reason of not being allowed to burn.
"The problem that's going to come here now is it's not January," said McLennan.
"It's not really month determined. It's when we have snow and don't have snow."
With his irrigated land, there should be more flexibility with where the in the county should and should not be a fire permit issued.
"I think that this bylaw is really good thing," said Coun. Michelle McKenzie.
"It gives Kelly the opportunity to say that you can have a fire ban."
Council would further discuss the flexibility of the fire ban time period and voted to amend Section 9.1 and 9.2 to say from March 1 to Dec. 31 the county will be on a fire restriction, while from Nov. 1 to Feb. 28, fire permits will be issued.
Additional amendments included the burning barrels is classified as a steel or medal drum no larger than 45 gallons with a heavy gauge metal screen having mesh size no longer than 6 millimeters.
Section 18 -Fire watch will read county and contract mowers shall always have a fire suppression unit following the mowers as a fire watch. County and Contract suppression units will have no less than 200 gallons of water for the suppression that will always be manned.
Council passed the first reading at their Sept. 5 meeting.