Playgroup teaches social interaction to local families
Posted on October 9, 2018 by 40 Mile Commentator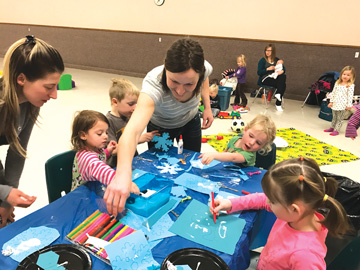 Photo submitted by Terri-Lynn Arnal Bow Island's held it's first play group session at the multiplex on Oct. 3.
By Scott Schmidt
Southern Alberta Newspapers
Moms with young kids quite often spend much of their time socializing with each other. No doubt it is a truly magical experience that creates lifelong bonds nothing could ever diminish.
But both parties need interaction beyond that, as kids need to learn how to be around other kids, while moms sometimes just need to talk to someone who understands what they're going through.
Thanks to the Forty Mile Regional FCSS program and some grant funding that purchased equipment and toys, the county has been able to provide playgroups in its three largest centres — Bow Island, Foremost and Etzikom — for the past 15-plus years, giving opportunity for moms to get together with other moms while their children learn proper social interaction through play.
"Right now we are focusing on Bow Island, just trying to revamp what we are doing," says Terri-Lynn Arnal, Forty Mile Early Childhood Development Co-ordinator. "Our main focus is children, 0-6, and to find those play and social experiences for them."
While often attended by moms with their young kids, each playgroup is also open to dads, grandparents and caregivers who look after children during the day.
Bow Island's group, known as the Bow Island Baby Boom, used to run on both the first and third Wednesdays of the month, but a lack of parental volunteers coupled with changes within families as children age has forced organizers into a minor revamp.
"The moms and kids are growing and getting older, so we're needing new people to come and take part in it.," Arnal says. "We are just doing the first Wednesday of the month right now, in the hopes someone will step up and continue on with the third Wednesday.
"We're trying to just get people aware that a playgroup is still going on, as there are a lot of people that are new to the community as well."
The next playgroup in Bow Island runs Nov. 7, 10 a.m. at the Multiplex — 1040 Second St. E. If the interest is there and someone is able to volunteer, Arnal says the ultimate goal is to get back to twice-monthly playgroups.
She says the groups work well because they get parents and children together who are all dealing with similar stages of development.
"The moms usually get to sit and visit with other moms, and the kids get to play.," Arnal says. "It's a great chance for moms to socialize and for kids to socialize, just kind of have a fun group.
"It's a time to build friendships with other moms, while the kids get to enjoy and be kids and have that play experience."
While Bow Island is hoping its playgroup picks up some steam, the ones in Foremost and Etzikom already have heavy participation, which allows them to run each and every week from October through June.
Foremost's group runs every Wednesday, 10 a.m. to 1:30 p.m. at the community centre, while Etzikom's runs Mondays from 9:30-11:30 a.m. at the Etzikom Hall.
For more information on each of the three playgroups, call Arnal at 403-581-7084, or the FCSS office at 403-545-2200.