A little taste of history at Redcliff's newest pizzeria
Posted on October 16, 2018 by 40 Mile Commentator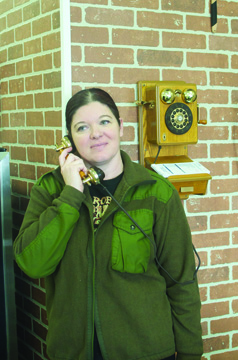 Commentator/Courier Photos by Justin Seward Heritage Pizzeria owner Deanna Sweeney picks up the old wooden telephone that is used to take orders at Redcliff's newest restaurant. Old newspapers clippings, chandiliers, a piano and movie posters are also featured in the restaurant.
Justin Seward
Commentator/Courier
Deanna Sweeney's passion of antiques combined with her dream of opening up a restaurant in her hometown of Redcliff came to being earlier this month with the opening of Heritage Pizza.
Her dad, Jim, was a chef in the Air Force for years and their initial thought was the restaurant concept was not in the cards, but when they started searching for commercial properties, the old heritage building on third street came up.
"We've always wanted a heritage building," said Sweeney.
"This was everything rolled into one as far as what we were looking for. We finally go into see it though. We were a little late, actually somebody had another offer on it but it fell through and we got it."
Redcliff was the focus for the restaurant because her family has been in the area since before it was incorporated into a town.
"My parents wanted to move back here into southern Alberta because this is home," she said.
"My grandma died a couple of years ago and that was the big push for us to finally get back here because she was dieing. She spent her last two years back at home in Redcliff. That's when we moved back permanently and said that's it."
"This is where I want to open my business."
The idea of doing an overhaul to the building was one that the Sweeney's had no issue of taking on because they had experience in renovations.
The time of purchase to opening its doors took two years and involved them doing the carpentry themselves and having to fend off customers who wanted to see the restaurant open.
"I just kept having to tell people 'you got to understand we're just opening a business. We're restoring a heritage building,'" she said.
"There's more too it than opening the restaurant doors. We tried to do it all cash and we didn't take take out any loans. We're here and we're happy with the result."
When customers walk through the doors, the experience of the 1920s with be evident with the chandeliers, old wooden wall phones, a piano, old newspaper clippings and even an old photo of the building being occupied by a hardware store.
"It's very homie. It's not cold and commercial like a lot of restaurants that you walk into," says Sweeney.
"You walk in here and it's like your walking into somebody's dining room. People could walk in here and get a sense of the building too, not just the restaurant," she said.
"It's a 1913 building and we wanted to stick with that theme and honour the history of the building."
A customer who has resided in Redcliff since the 1930s came in with her daughter and said she felt like a kid again, Sweeney added.
As for the menu, Heritage Pizzeria gives diners a more appreciative approach to eating with homemade burgers, pizzas that are made in an old stone oven, hand mixed milkshakes as well as pastas made from scratch.
"It's a good variety for everybody," says Sweeney.
"The nice thing about it is we're right in town. We're not across the highway. We're right in town. The Parkside kids all come here for lunch. We're really involved with the youth in the community and they already know me, they feel comfortable coming here. A lot of the seniors too right, they can just walk down here, they don't have drive somewhere."
Heritage Pizza is going to off a Sunday brunch beginning in December, while a breakfast menu could possibly start in January.