Local cowboy mounted shooter earns a buckle
Posted on October 16, 2018 by 40 Mile Commentator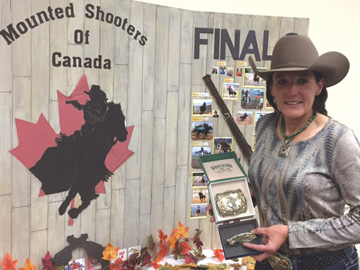 Justin Seward
Commentator/Courier
Cypress County Wildrose Mounted Shooting Society rider Tannis Piotrowski finished off her first season in the style by winning the silver buckle at the Cowboy Mounted Shooters of Canada finals in Red Deer at the end of September.
The sport involves riding a horse around an arena and shooting at inflatable balloons.
She collected the best time in a winner take all, five stage shooting event and staved off five other ladies at the SL (senior ladies)1 level throughtout the weekend.
"The competition was fierce," she said.
"Once you get up in the higher levels, it's one hundredths of a second or one missed balloon can cost you the title. I out run my competition by time but I occasionally missed balloons."
Five seconds were taken off for every missed balloon, in which Piotrowski missed five in the finals, but her running time led her to victory.
"Once I missed a balloon, I knew I had to pretty much stay clean," she said.
"There was one balloon that did everything but break. It waved from the combustion but it did not pop."
In order to qualify for Canadians, she had to attend five events over the season, whether it was a certain number of jackpots or Cowboy Mounted Shooting Association (CMSA) shoots.
Piotrowski earned enough points throughout the season to become a seasoned leader, which allowed her to be at the top of the heap.
The people in the sport is what has meant the most to her.
"They're willing to help out," she said.
"You're all friends and when competition comes, it's game on."
The Cowboy Mounted Shooting Association season will end with finals in Pincher Creek at the end of October.